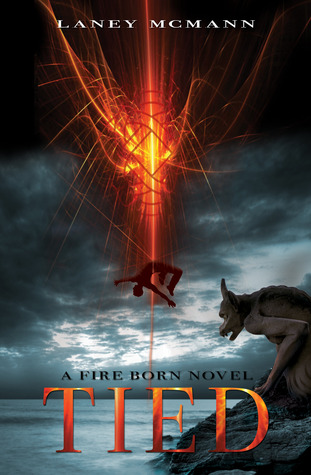 Tied
Rating: 4/5
Buy or Borrow: Buy
Source: Copy courtesy of the publisher
Normal people don't believe their nightmares stalk them. They don't fall in love with boys who don't exist, either.
Seventeen-year-old Layla Labelle, though, is far from normal. Her delusions walk the earth. Her hallucinations hunt her, and her skin heats to a burn every time her anger flares.
Or is that all in her head?
Layla doesn't know what to believe any more because if none of that's true, Max MacLarnon must be an illusion, and her heart must still be broken.
No matter how much she wants to believe Max is real, doing so would mean everything else is, too. How, then, is that possible?
The answers lie in an age-old legend the supernatural aren't prepared to reveal, and with a curse that could tear Layla and Max apart forever—if it doesn't kill them both first.
In TIED, book one in the Fire Born trilogy, learning the truth will mean fighting an arsenal of demons, and being with Max will put Layla on a path toward her own destruction.
Just how far will Layla go to protect the one she loves?
The answer may never be far enough ... away.
So, this is one of those books I stumble across and get to review, and then I'm kinda blown away but how awesome it is, and to be honest, I wasn't sure what to expect from this, but it ended up being way more awesome than anything I was kind of expecting....which doesn't make sense but still.
This definitely falls under the category of original and unique, and I was sucked in to the world from the beginning and unable to put the book down, it was so good! You never know what's going to happen next, and there's always something going on!
I loved the rich mythology in the book, it's an area I don't know much about, so it was interesting reading about it, and I kinda wanna know more about Irish mythology now! Good thing I just got a book on it for my birthday then isn't it?! It was an interesting take on the Fae as well.
The author is a pro about making you feel the feels, and many feels where felt while reading. In other words, the author is a pro at taking your emotions and manipulating them to the characters. I felt some pretty intense rage at Layla's mother, making her thinking she was crazy and everything, and other things like that. The author helps you get inside the character's head, and you understand them so well that you feel whatever they do.
The mystery was well done without being annoying or reaching a stage where it had gone on too long, and you can try and work it out for yourself but I had no clue! When it all starts to come clear and truths come out, it's pretty...insane. Like overall, I did not see the betrayal coming at all. I can't believe Benny didn't believe her! You're kept guessing, like I said, and you kinda have to keep reading to find out what's going on and what's going to happen next.
The ending leaves you on a cliffhanger, and so I, for one, am pretty desperate for the next book to see what's going to happen next! There's a fight brewing and the author has written the character's so well, particularly Layla, that by the end, we're all on her side and connected to her pretty well.
I will admit, I did get confused at one point, because the POV changed and it took me a while to work out who's it had changed too, and this happened a couple of times, because I had an ARC i'm not sure if, in the finished version, it's going to state the POV changes or not, but yeah...minor confusion there!
The other slight issue I had was that, while I was intrigued about the whole mystery, a whole lot of nothing happens in the beginning, the dancing stuff I didn't really care about too much, and it kind of seemed a bit redundant half the time, like it was just there. There was plenty of drama and everything, but the beginning was a smidge slow, and while being balanced out by the mystery, I feel it deserves a mention.
Oh and the romance was quite cute, the whole childhood friends, destiny type thing. Way cute.
So yes, this book is fantastic, lots of rich mythology, lots of mystery, cute times, cool things, and very original, and I'm intrigued for the next book to see where this is going to go, seeing as, at one point, I thought this was a standalone, and didn't realise until we drew closer to the end that it was gonna be a series starter!