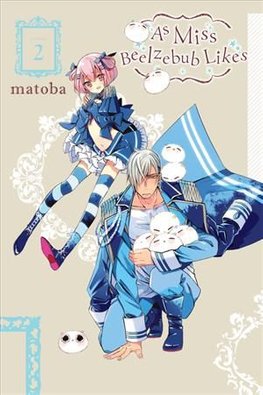 As Miss Beelzebub Likes Vol 2
Rating: 4/5
Buy or Borrow: Buy
Source: Copy courtesy of the publisher!
As the archdemon Beelzebub's attendant, Mullin is constantly reminded of just how quirky his boss can be. However, he's quickly learning that Beel is not the only eccentric running Pandemonium! Whether it's the frivolous playboy Astaroth, the perpetually sleepy Dantalion, or Eurynome and her...dangerous tastes, it's a wonder anything gets done at all!
Honestly, Volume 2 cracked me up from the start. Poor old Beelzebub has it tough, trying to work out which fluffy thing she'd hug first. Hard life, isn't it?
This volume expands on our cast of characters and introduces us to more of the colourful personalities residing in Pandemonium. Eurynome...well she's a bit creepy isn't she? Bless her. Although I did chuckle when she slapped Astaroth back down to size verbally, because he did need it a little bit.
We also meet Dantalion, the head of the library and literally me! He stays up all night reading....that's pretty much what I do all the time. I think he might be my new favourite! Or one of them anyway! And then we have Molech, who's...excitable. Bless him. Plus we have Adramelech the wardrobe specialist.
Perhaps the most adorably entertaining part of the volume was Belphegor trying to confess to Azazel, bless her. She plots a scheme to get close to him that involves cooking, so she ropes in Beelzebub to help out too along with Nisroch, Beelzebub's chef. Because they need professional supervision obviously. She actually manages to make a little bit of progress with her crush though! I also really liked getting to see more of she and Beelzebub's friendship, they're so cute!
I honestly ship Belphegor and Azazel so much, not to mention Mullin and Beelzebub and they have some cute moments this volume as the romance moves along! The romance aspect wasn't something I was actually expecting, I was expecting a funny slice of life with demons, and it is that...but there's also the romance element and I'm living for it because of all the fluff! Not to mention the art, that's completely gorgeous!