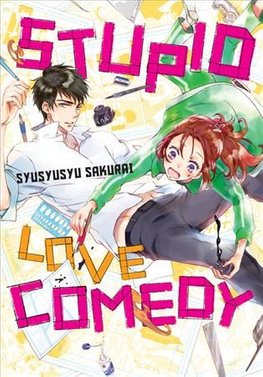 Stupid Love Comedy
Rating: 4/5
Buy or Borrow: Buy
Source: Copy courtesy of the publisher!
Suzu Sakura is a lazy author who can't keep a deadline, is twenty-four hours late to meetings, and falls asleep in the middle of crunch time-you name it! It seems like no one can keep her in line, but then she gets a new editor. Hasegawa's a super-mega HOTTIE, but his temper runs just as hot. Though he scolds her endlessly and they're quickly driving each other up the wall, will something bloom between this odd couple...?!An inside look at the manga industry, full of laughs and a little heartache!
First things first...this is three volumes in one, because it's the complete series all packed in to one chunky volume. The illustrations for the colour pages are gorgeous, as for the rest of the art...the character designs are gorgeous and perfectly drawn. Plus some of the expressions the characters make are just hilarious.
I love the characters, Sakura is kind of ditzy but totally hilarious and really relatable. I think we'd all have the same reactions as her to some degree, upon meeting Hasegawa! She just can't seem to do anything on time though, and her work lately has been off. I mean I can't really say anything because I struggle with time management but I've never been a day late to a meeting before. I liked that over the course of the three volumes we saw a more badass side to her when she's defending her work.
As for Hasegawa....I started the volume like "Oh isn't he pretty? Oh he's so sweet and adorable" and then two seconds later I was like, "wow what a douche bag". And thus we have our first impression of Hasegawa. To be fair to the dude, he does deliver a much needed smack down to poor old Sakura. She does need a bit of a wake up call, and he did actually encourage and inspire her to be better, and produce better work and work harder. He gets her to focus...mostly. He pushes her out of her comfort zone, and gets her trying to be an assistant to improve her skills, and then shows her different parts of how the industry works to show her what she's negatively effecting when she's late.
He's also on a learning curve of his own as he hasn't worked with Shojo manga before, or anyone like her, and he initially kind of looks down on it but Sakura manages to change his opinion and I liked watching him get more and more in to the world of Shojo manga. I feel like he changes a fair bit, he's still all grouchy and shouty but he does become a little bit more tolerant.
Alongside our main two characters, we have a brilliant cast of supporting characters and they're certainly a colourful bunch. Let's start off with Shimada, he's actually kinda funny...despite the fact he initially dissed Shojo manga! I was like oh my dude...you shouldn't have said that, but he got quite the smackdown. I loved how he and Sakura became quite the team, their bantering was so freaking entertaining. I actually loved how in tune with each other they where and how extra the two of them can be. He really has her back, and their antics just cracked me up.
Nanami was another of the good looking male characters, he's a cover designer. Honestly...as much as I shipped Hasegawa and Sakura, I did low-key ship her and Nanami. They got on so well and he was so encouraging, plus I was like "yaaasss make Hasegawa jealous, so he stops being mean!". But hot damn, he turned out to be a snake. By the end of the volume I was just kind of rolling my eyes at him, and completely unsurprised though!
Kaji was hilarious too, and he was a lot of fun, and I was pleased we actually got to see a lot of him! Hinata was...a bit of a cow. I was excited for Sakura to have a friend, but every time she was nice, she flipped the switch and did or said something nasty. As for Haruhiko...he was totally up to something. Or so I thought. I wanted to like him but he seemed really shady, and I was kind of disappointed that after all of that we didn't get to see more of him. He seemed like he had a plan to spring in to action, and steal Sakura away...but it was never really acted on and he only really appeared more than once after that.
I'm sure anyone who's read manga knows a little about how it all works, thanks to the authors notes and afterwords and so on, but this manga takes us deep in to the industry and we get to see a lot of the process in depth! I honestly found it so interesting to see the manga go from stage to stage, and according to the comments at the end of each chapter from the editors...there's a lot of truth in this one too!
Hasegawa was initially so kind of...cold and mean, and overly disinterested towards Sakura so you knew the romance was going to build up in to a good one! But I was a teeny bit disappointed with it in the end. I just felt like some things weren't as fleshed out as they could be, or followed up on. Like Haruhiko and his "plan", and I was hoping for a bit more romance and fluff, and a more concrete ending than we actually get. I feel like it was left kind of up in the air, or to your own interpretation, but there are some fun bonus chapters at the end to make up for it!
Stupid Love Comedy is hugely entertaining and hilarious with some really cute moments! There's a great pace, a little bit of fluff and huge doses of humour thanks to the lively characters, and I really enjoyed the way Sakura and Hasegawa's relationship grew and developed and changed and how they got to know each other and adapted and ended up becoming closer and closer. But like I said...this one just made me so badly crave some proper romance with them, or at least the cheesy happy ever after!
Save
Save
Save
Save