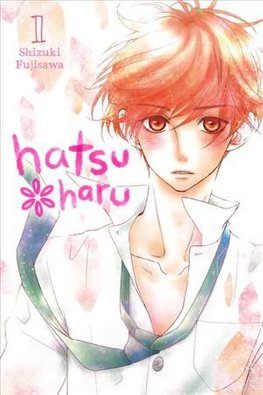 Hatsu Haru Vol 1
Rating: 4/5
Buy or Borrow: Buy
Source: Copy courtesy of the publisher!
Playboy Kai knows his way around girls' hearts, but when he has a run-in with tomboy Riko, he may be in for more than he bargained for! Riko clearly doesn't fit Kai's usual type of girl: she's short-tempered, scary, and can (has) easily beat him up. There's no way a rough and tumble girl like Riko is capable of a delicate feeling as love! So imagine his surprise when he finds out about her secret, one-sided crush... But it's none of his concern, right?
I'm going to be honest, I wanted to read this because sometimes I like to have the odd series here and there that's going to uplift my mood, and be a bit of a cheerful read. With some fluff, and maybe a bit of cheesiness and some romance. Plus, it sounded like it was going to be hugely entertaining! I was also intrigued by the fact the guy was going to be our main character.
And speaking of Kai....oh Kai, your first impression wasn't great, was it my love? It's safe to say he's a total playboy, and his friend isn't much better either! He's so, hilariously salty about Riko and what she did, it had me chuckling multiple times. I also feel like he's a wee bit delusional regarding her too. Like okay dude, you do you. To be fair to him, he does have the capacity to be quite sweet, but it's not immediately apparent.
It was immensely satisfying to see him catch feels and struggle with it, after that first impression of him!
As for Riko, our first glimpse of her at her first encounter with Kai was A+. She's not here for his crap, and she's a little bit of a badass. It had me cackling more than once, especially when we got a flashback to when they where kids. I really enjoyed the fact that anytime he tried anything, she just wasn't having it, and shuts it down immediately.
Hatsu Haru actually a lot faster paced than I was expecting! I was anticipating it to take a little bit of time before the feelings started, but the volume doesn't hang about! It introduces us to the characters and the situation swiftly and then dives in to the drama. This is a cracking first volume in general, it's absolutely hilarious and wonderfully paced. Kai and his thoughts and how he handles things, like finding out about Riko's crush on Suwa and his own developing feelings...was very entertaining and while initially you might have side eyed Kai a bit, by the end you're rooting for him, like "okay...let's do this".
Yeah there might be a cheesy trope and cliche or two, but I am living for it because it hits me with the warm and fuzzies, and I do love a bit of cheese sometimes! Plus I feel like it suits this series, and the characters and their relationship. I just love the fact she really doesn't like him and isn't going to make it easy for him, and he's quite reluctant to start with.
As for the art, the characters are really gorgeously drawn! The art style was just so pretty, particularly how the eyes are drawn!
Honestly...I'm now completely hooked on this series, it's entertaining, hilarious and full of cute moments and drama!