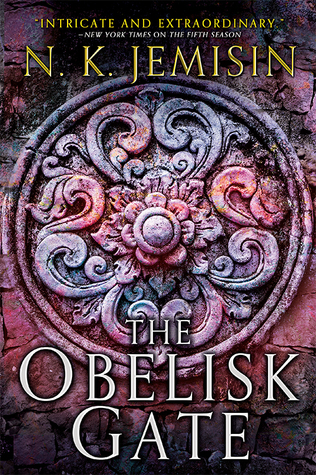 The Obelisk Gate
Rating: 4/5
Buy or Borrow: Buy
Source: Copy courtesy of the publisher, Orbit!
The season of endings grows darker as civilization fades into the long cold night. Alabaster Tenring – madman, world-crusher, savior – has returned with a mission: to train his successor, Essun, and thus seal the fate of the Stillness forever.
It continues with a lost daughter, found by the enemy.
It continues with the obelisks, and an ancient mystery converging on answers at last.
The Stillness is the wall which stands against the flow of tradition, the spark of hope long buried under the thickening ashfall. And it will not be broken.
Okay so this review took longer to write up and post than it should have because I've been super busy and just haven't had the time but OMG. The Obelisk Gate completely blew my mind, it changed around everything I thought I knew from the first book, and just...blew my mind.
The Obelisk Gate continues on smoothly from the end of The Fifth Season so a re-read may be in need just to appreciate the effect! We get more of the world of the book, more information on the world and more about the characters. We get to see and find out so much more about the world of the book, the world is expanded on a lot and I loved it. I'm loving the obelisks and the role they're going to play in the books, I loved the idea of them when they where introduced in the first book, and now with what we've learned in this book, I'm excited to see what's going to happen with them. I'm so intrigued to see what the author is building up to with the Orogeny and magic and everything!
This time around we have the narrative split between Essun and her daughter Nassun who we finally get to meet! We have Essun with her comm, trying to fit in, making friends, and trying to learn whatever it is Alabaster is trying to teach her. With Nassun we see what happened after she left with Jija, so in the beginning we have Nassun's narrative that's before where Essun is, and I liked how it was written, you see where Nassun was in relation to where Essun was in her journey to find her and it was an interesting way to write it! I really liked how it was done, because it was easy to remember where Essun was and how she felt and what she was thinking, and then see where Nassun was and how far away Essun was. Nassun is with her father Jija and he's taking her to be cured of her Orogeny, but it's not exactly what he was hoping and Nassun finds herself surrounded by more Orogenes. I'm kind of torn with Nassun, because I really liked Essun and was quite attached to her after the first book and how desperate she was to find her daughter, and then we finally get Nassun and she keeps saying how she hates her mother and I understand why, but she hasn't really thought of things from her mother's point of view. She loves her dad, even after what he did, and I found her relationship with her father intriguing, and incredibly well written and heartbreaking and raw as you see how much she loves her father, and how her father treats her and how she's being treated. It was so well done, but in the beginning I really didn't like her all that much and I was much more interested in Essun and what she was getting up to, plus I spent a lot of time mentally screaming at Nassun "NO, NO DON'T GO THERE. DON'T FALL IN TO HIS TRAP. NOOOO"
We get the reappearance of an old face, and we get some new characters. Although..I say new but we kinda saw them at the end of the first book, but we really get to know them in this book! I've got to say, I love Ykka, she was hilarious and I felt for her and the struggle she had towards the end of the book. She loves her comm and her people but they might totally screw her over because of what she is. I loved her friendship with Essun and how Essun allowed herself to have friends in the comm, and there where plenty of brilliant secondary characters in this book, much like the first! Jemisin writes such brilliant, lively characters.
The plot definitely thickens in The Obelisk Gate, and like I said, it blew my mind with the revelations it had plot-wise! It's slower than the first book, and for a chunk of the beginning, not all that much happens, which might put some people off as Fifth Season had a brilliant pace, but you get a lot more world building for that and set up for the plot. The writing continues to be brilliant, and I never thought I'd find myself enjoying a second person narrative quite so much! I'm so intrigued to see what's going to happen, what Essun is going to do and how everything is going to be resolved!