I know this is really, super late but I've got two brilliant reads this week so I hope that makes up for it!
First up is one of my most anticipated books of the year. Like....I need it more than life itself. I've been waiting for what feels like centuries for this book, and Six of Crows is one of my complete favourite books and I just need to know what happens to everyone, okay!?
Second is the final book in a series that I stumbled across in the bookshop, I've only read the first book, I need to actually you know..get the rest of the books, but I love the gorgeous covers, and I loved the first book!
Crooked Kingdom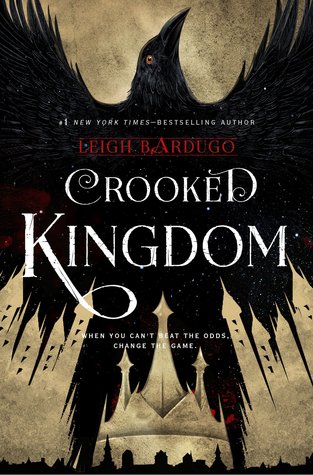 Kaz Brekker and his crew have just pulled off a heist so daring even they didn't think they'd survive. But instead of divvying up a fat reward, they're right back to fighting for their lives. Double-crossed and left crippled by the kidnapping of a valuable team member, the crew is low on resources, allies, and hope. As powerful forces from around the world descend on Ketterdam to root out the secrets of the dangerous drug known as jurda parem, old rivals and new enemies emerge to challenge Kaz's cunning and test the team's fragile loyalties. A war will be waged on the city's dark and twisting streets―a battle for revenge and redemption that will decide the fate of magic in the Grisha world.
Crooked Kingdom is out September 27th, pre-order your copy...here!
Add it to your TBR...here!
The Obsidian Throne
There is no war in the northlands, just annihilation. Either the dragons will destroy this world or Queen Beulah will raze it to the ground. Below the city is a secret the House of Balwen have kept for millennia, a treasure beyond imagination. None but a direct descendent of Balwen himself can open the escape routes from this cavern. To do so, Princess Iolwen will need to claim the Obsidian Throne. Meanwhile Errol and Sir Benfro find their destinies drawing closer together, with the future of all life in the Twin Kingdoms resting on these two unlikely heroes. There will be self-sacrifice and terrible betrayals. And the lives of boy and dragon will be forever changed.
The Obsidian Throne is out October 20th, pre-order your copy...here!
Add it to your TBR...here!