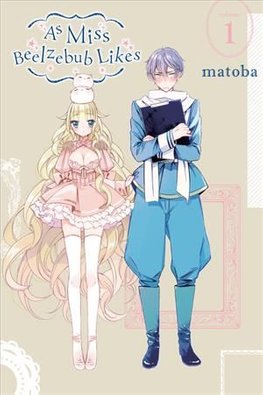 As Miss Beelzebub Likes Vol 1
Rating: 4/5
Buy or Borrow: Buy
Source: Copy courtesy of the publisher!
Beelzebub--the formidable right hand of Satan--commands fear and respect throughout Pandemonium. What her underlings don't realize, though, is that she's an airhead with a love for all that is fluffy and adorable! The only thing she might enjoy more is teasing her new attendant, Mullin, who is learning that serving Beelzebub is both heaven and hell...
I've been pretty excited for this one and oddly intrigued, it sounded like it was going to be hilarious but I still wasn't sure what to expect! I ended up being pleasantly surprised with this volume!
The colour pages are pretty and delicate, and kind of girly too! I actually really liked the art, the settings are beautifully drawn and the characters are actually kind of cute, and gorgeously drawn. Like if you like pretty characters, this is the manga for you! Plus the angel hair balls are freaking adorable!
Beelzebub sounds all badass, but she's actually quite ditzy so far, which is hilarious and Mullin is so over it. Mullin is having a bit of a crisis, because he was super stoked to work for his idol, the badass demon in charge...and then he found out she was actually kind of tiny and adorable, and has a penchant for soft and fluffy things.
There really is a brilliant cast of characters. Azazel is hilarious, he's all butch and scary looking but he likes stuffed animals and does a Love Actually when he talks with signs all the time. Astaroth is even funnier, he's obsessed with Beelzebub...like to fanboy levels. He's all worried because Mullins "boyfriend level" is high and he provided quite a few laughs. His guardian, Sargatanas, is freaking hilarious too, and I loved their interactions, it was such a contrast.
As Miss Beelzebub Likes is a funny, slice of life kind of manga, about demons and it actually kept my interest more than most slice of life's do! I found it hugely entertaining with plenty of fun characters and a tonne of laughs to be had...and quite possibly some hints of romance?!
Save
Save
Save
Save