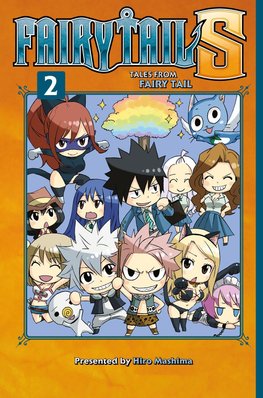 Fairy Tail S Vol 2
Rating: 5/5
Buy or Borrow: Buy
Source: Copy courtesy of the publisher!
The guild members of Fairy Tail, everyone's favorite magic-wielding heroes, are back for another round of adventures--this time featuring even more mysteries, magic, and fun than ever before. What would the Fairy Tail gang be like if they went to a modern-day high school, or lived on Earth Land in 10,000 BC? And when Natsu, Lucy, and Happy encounter some unfamiliar faces, will it lead to new friendships, or foes? Find out in this final volume containing nine fun Fairy Tail stories!
This volume kinda lessens the sting of the ending of the series...although we are getting a spin off manga apparently so that's good right?! You guys know I freaking love Fairy Tail...it's my favourite, like my complete and utter favourite, and I live for these S volumes because they're freaking hilarious!

Unfortunately

...this is the last Fairy Tail S volume!
This volume gives us a High School AU, we get a look around Fairy Hills, there's a very familiar chapter from early on in the anime involving a certain tree....a collaboration with Rave Master (I still reaaaaally want to read that series but it's out of print *ugly sobs*). Erza tries her hand at being a superhero, there's a crossover with Parasyte (haven't seen this series before at all but it was certainly interesting), and a Stone Age AU inspired by Mashima's Twitter drawings that you guys might remember! I have to say...that story in particular while hilarious isn't strictly PG I guess you could say...but it made me cackle more than once!
Fairy Tail S Vol 2 is another fun volume, that lets us get to see the characters in new and interesting situations as well as showing us more of the characters and the world of Fairy Tail. A few of the chapters have been seen in the anime, or in the OVA's, but this volume has a couple that I personally haven't seen before! The characters are expanded on, as is their backgrounds and there's plenty of humour and fun! Perfect to read if you're missing the main series!