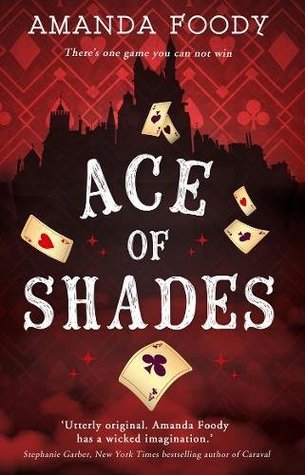 Ace of Shades
Rating: 5/5
Buy or Borrow: Buy
Source: Copy courtesy of the publisher!
Enne Salta was raised as a proper young lady, and no lady would willingly visit New Reynes, the so-called City of Sin. But when her mother goes missing, Enne must leave her finishing school—and her reputation—behind to follow her mother's trail to the city where no one survives uncorrupted.

Frightened and alone, her only lead is a name: Levi Glaisyer. Unfortunately, Levi is not the gentleman she expected—he's a street lord and a con man. Levi is also only one payment away from cleaning up a rapidly unraveling investment scam, so he doesn't have time to investigate a woman leading a dangerous double life. Enne's offer of compensation, however, could be the solution to all his problems.

Their search for clues leads them through glamorous casinos, illicit cabarets and into the clutches of a ruthless mafia donna. As Enne unearths an impossible secret about her past, Levi's enemies catch up to them, ensnaring him in a vicious execution game where the players always lose. To save him, Enne will need to surrender herself to the city…

And she'll need to play.
I am so excited to be part of this blog tour! As you guys probably know, I freaking loved Daughter of the Burning City and I'd been looking forward to it since the previous year....I've been looking forward to Ace of Shades for nearly as long! Since before it had a cover or a synopsis on GoodReads in fact! Considering how much I loved Daughter of the Burning City, I became even more excited for Ace of Shades....I was expecting brilliant things from it....and I wasn't disappointed.
Ace of Shades grabs you from the start. Seriously, the opening line is not here to play. I was immediately drawn in to the book by the world...it was fascinating and original and the world building was done perfectly. We got plenty of information on the world from Levi and from Enne's handy guidebook. Plus it was concise and to the point, while still painting a vivid and atmospheric picture. I have a certain aesthetic in my head for this book now!
Ace of Shades has two narrators, Enne and Levi and I loved both of them! Enne...I had to admire her determination to go to New Reynes and find her mother. She didn't give up, she didn't quit no matter how scary the situation got. She adapted and she changed and I feel like she became a stronger character by the end of the book, she certainly wasn't the same Enne that we met at the beginning of the book, she became quite the rebellious badass and she's not about to take anyone's crap. She goes on quite the journey throughout the book and she gets more...interesting, shall we say? At least concerning her history. I loved her attitude too, she gave as good as she got to Levi and the others!
As for Levi, he's the kind of unscrupulous, Kaz Brekker kinda character that I love. He's kind of not one of the good guys, he does some bad things, but you love him anyway because he's charming and amusing, but also kind of sweet and protective when he wants to be. Not to mention he's not afraid to show that he's scared which was interesting to me. Plus, to be fair to him, he did try to help Enne as best he could, and he genuinely cares about the Irons...he's just gotten himself in to a tricky situation he can't quite extract himself from. I really felt for him, and I was rooting for him! Interestingly, with Levi we get some diverse, LGBTQ rep, as he's bi and a PoC, which made a nice change for me! I can't speak to the accuracy but I enjoyed seeing some Bi representation in this book, and I'd been hoping for it considering Amanda's previous book, she doesn't shy away from LGBTQ representation!
I'm not going to lie to you guys, I do kinda ship Enne and Levi quite a lot, I loved the chemistry between the two of them, and their relationship and interactions. It was always entertaining and was quite the game to watch! Along with our main characters, we have Jac, who's Levi's bestie and second in command and I'm reaaaallly curious about him. I have a little suspicion about him, that I'm waiting to see if it's right! Reymond was shady at first, but was actually quite fun for as long as he was present in the story. And then we have Lola, I really liked her, and I was curious about her past. There's a lot of potential with her and her brother that I'm excited to see play out!
I really enjoyed the dynamics between Enne, Levi, Lola and Jac, their interactions where

humorous

and the building friendships between them all was brilliantly done. They're another little rag tag group for me to get behind and cheer for!
Ace of Shades is fast paced, and the world is vivid and atmospheric as is to be expected from Amanda, as well as original and a lot of fun. I was completely fascinated by the history of the world, and the magic system with the talents. There where so many and they where so original and fun to read about! I really am in love with Amanda's writing style, I ended up fully immersed in the world thanks to the world building! I had such a clear, gritty picture of the scenes and settings, like a little movie was playing out for me. I really felt like I was in the book with the characters.
Amanda's prose was laced with subtle terms and phrases linked with gambling/Vegas/cards that kind of thing, that I felt really helped set the tone and scene, and pull you in. The slang words kind of put me in mind of the 20's/30's too, which was an interesting twist! The characters where interesting, I feel like they're kinda morally grey, shall we say. I mean...they do some things they probably shouldn't do but they do kinda have reasons for it. I found them interesting because of it, and Levi even called them the villains at one point, which I think was a bit extra of him, but...you do you Levi.
Ace of Shades has plenty of action that has you on the edge of your seat, not to mention the card games! I was tense for the entire end of the book, I'm not going to lie! The character development is brilliant, the plot twists have you shrieking and it's all just getting started. I see this book as the first act, and judging by the end of the book...the second one is going to be even more mind blowing! I'm looking forward to seeing the history and talents expanded on more, and seeing what happens to my precious little cinnamon rolls!