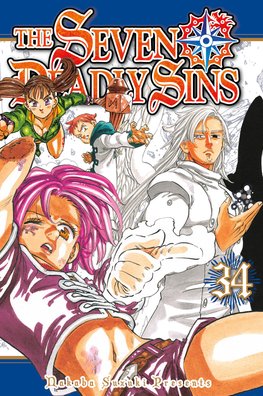 Rating: 4/5
Buy or Borrow: Buy
Source: Copy courtesy of the publisher in exchange for an honest review!
Estarossa continues his path of destruction with the power of three Commandments and his sights set on more. Against such terrifying strength, both his enemies and former allies realize their only chance of defeating him is to work together. Will their strategy be enough, or does the secret to victory lie with Estarossa's connection to Gowther?
Meanwhile, in Purgatory, Meliodas and Ban resolve to escape and fight their way back to the women they love. With the help of Wild, they gear up for their ultimate stand against the Demon King!
We have an action packed volume once again, with the action taking place right from the start as our group try to reclaim the Commandments within Estarossa. Elizabeth and Co have quite the fight ahead of them, and it only gets worse as Estarossa transforms in to an even more intimidating foe.
The volume's full of action as everyone has to throw out some new moves in order to try and defeat him, meaning this volume has a fair bit of tension to it as well as we wait to see whether or not they succeed. Alongside all of that, there's also a little bit of heartbreak in there too for some characters.
Meanwhile, King undergoes an interesting transformation and I'm excited to see what this is going to mean for him in terms of his powers and what he can do. While we do get a look at one of his new interesting powers, I'm intrigued to see what else he's capable of now. Gowther also gets his moment to shine, which was nice to see. I was excited to get some shards of his past and some more background to he and his creation, as it's an interesting one.
Of course, while one storyline wraps up, we rejoin Meliodas and Ban and their fight with the Demon Lord. Quite a bit of time has passed for them as they battle him repeatedly, which means we have a bit of a power upgrade. Like King, Ban's powers have morphed and changed and that's one thing about this series. Characters and their powers don't remain stagnant, they develop at a good pace to fit the story and morph at an appropriate time to fit the story.
This particular volume has no dull moments, it's action through and through with characters powers developing more for the next phase of the story and Meliodas and Ban making a return at the end of the volume ready for what's next!