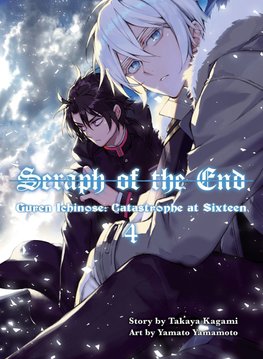 Guren Ichinose: Catastrophe at Sixteen Vol 4
Rating: 5/5
Buy or Borrow: Buy
Source: Copy courtesy of the publisher!
Seraph of the End is a novelized prequel of the hit manga series of the same name, published by Viz Media, and detailing the series of events that occurred eight years before the start of the manga.
As the major clans of the Imperial Demons mount an apparent all-out revolt against the ruling Hiragi dynasty, Guren, Shinya, and company are no longer sure they're the protagonists of the story unfolding around them. What is their true destiny?and is fulfilling it even desirable?
In this concluding volume, which pulls no punches, find out how and why a world that's been inviting utter ruin meets it at last.
With this being the prequel to Seraph of the End we all knew what was going to go down in this series, but we've built up to it nicely. We've seen what school was like for Guren and the rest of the Moon Demon Company, we've seen things start to go wrong and plots unfold and with this volume it's two days until the end of the world so I think we all knew this one was going to be action packed.
Honestly, I'm not looking at Shinoa and her interactions with Yu a little differently, not to mention like...all of the other characters and how they interact with each other! But this volume gave us a lot of Shinoa and revealed a certain conversation with her demon. From the main series, I'd already gleaned some of what's revealed in here but it's different seeing it all laid out in detail and catching the nuances of it.
I liked the POV switches, we've spent this series mostly in Guren's head but we got to know he and the rest of the Moon Demon Company really well, and this volume let's us get to know Shinoa really well as well as Kureto. Considering what went down in Vol 15, this insight in to Kureto was incredibly well timed, and added to my changing opinion of him. It's kinda hard to hate him now! I also liked how Yu and Ferid where woven in to this book as well!
We get a couple of twists here and there and a fast pace but ultimately we all knew what was going to happen! Although if you haven't read the main series or watched the anime you might not. I did like how it still managed to keep you on edge though! I wasn't exactly sure how it would play out, and it built up to the big moment brilliantly. It did however, reinforce my hatred of Mahiru, especially as it was still quite sad at the end, even if you already knew
!