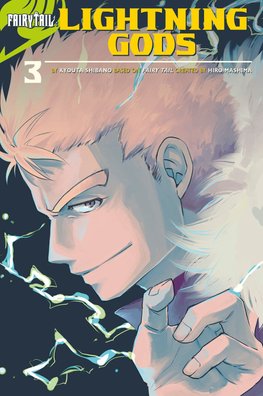 Fairy Tail: Lightning Gods
Rating: 5/5
Buy or Borrow: Buy
Source: Copy courtesy of the publisher!
Hot-headed wizard Laxus Dreyar is always on the lookout for the next challenge! So when Fairy Tail disbands, he and his loyal crew of Freed, Evergreen, and Bickslow join the fun-loving guild Blue Pegasus. Before long, the guild's master Ichiya is kidnapped, and it's up to Laxus to save the day. However, when faced with a battle with a rival guild's female mages, Laxus learns a tough lesson... On the next mission, Laxus and his gang go up against an ancient relic of fearsome magic--one that will put their bonds of friendship to the test!
I have been waiting for this volume for forever! I love this spinoff series, each one has been so brilliant and give us a really nice look in to the characters each volume focuses on! Laxus is just so hilarious to me, he's so grouchy and surly and I've been looking forward to him getting the spotlight for a bit! Plus the rest of the Raijinshu.
Freed is definitely my favourite out of the three, don't get me wrong I love Bickslow and Evergreen but Freed cracks me up. He's such a Laxus fanboy. Not only do we get to see more of the three of them in this volume, but we get to see more of the Blue Pegasus crew too and I enjoyed getting to see more of their personalities and the dynamics between them. Plus we get to discover a new Guild as well!
This volume is hilarious, genuinely, but poor old Laxus has to figure some things out about himself, which I thought tied in really nicely with the main series. There's a lot going on this volume, we have two different storylines, both of which are given a nice amount of detail and are fleshed out really well, plus they're nicely paced.
We get plenty of action, we get to see loads of all four characters and we even get to see a flashback to how the Raijinshu formed! Overall it's an entertaining and action packed volume, that slots in nicely with the main story!