It's Wednesday again!
Not surprising seeing as it's a weekly occurrence ya know! I'm really excited for this week's reads, I mean I'm excited every week but yeah.
First up is the next book in a series by one of my favourite authors ever! I'm so excited to see what happens to the characters next, and I'm anticipating pain and angst! Although I'm not sure if this is the right cover!
Second is a book for all you fellow nerds! It's a new Star Wars book by yet another of my favourite authors, and I'm so excited to read it! I still need to read her other Star Wars book though!
Soldier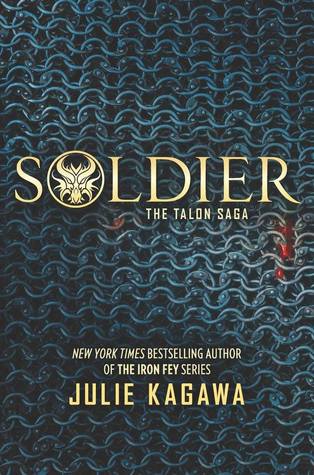 A fighter dedicated to saving humankind from dragons in strictest secrecy.


That was what Garret Xavier Sebastian thought he was part of as a soldier of the Order of St. George. What he learned from a fiery dragon hatchling twisted all he believed in and set him on a collision course with certain death-but not without a chance to put things right.
Betrayed and on the run again, Ember and rogue dragon Riley discover an unthinkable truth about Talon and St. George. They'll need Garret's skills and insider knowledge of the Order to negotiate an impossible deal-and if they fail, there will be no way to stop all-out war.
Soldier is out May 5th, pre-order your copy....here!
Add it to your TBR....here!
Star Wars: Bloodline
From the
New York Times
bestselling author of
Star Wars: Lost Stars
comes a thrilling prequel to
Star Wars: The Force Awakens,
set roughly six years before the events of the film.
That's legit all I can find about it! But ya know....Star Wars and Claudia Gray so it's gonna be awesome!
Bloodline is out May 5th, pre-order your copy....here!
Add it to your TBR....here!