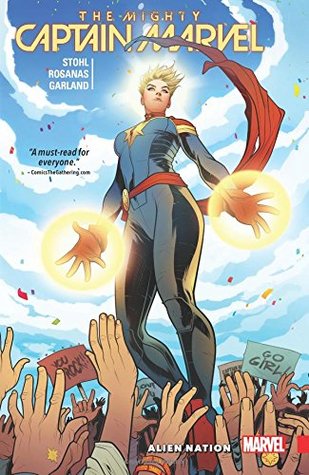 Rating: 4/5
Buy or Borrow: Buy
Source: Copy courtesy of the publisher!
Behold the mightiest, fightiest super hero there is! Captain Marvel returns to her helm as Alpha Flight commander with the world cheering her on. She's the biggest hero in the world - but has Captain Marvel become someone Carol Danvers no longer recognizes? New York Times bestselling author Margaret Stohl (

Beautiful Creatures

,

Black Widow: Forever Red

) makes her comics series debut with a blockbuster Marvel story decades in the making!
I've been eagerly awaiting this volume being released, because I love Stohl's writing and I was intrigued to see what she was going to do with Carol! I can't say I'm a leading authority on Captain Marvel because I haven't actually read that many Captain Marvel comics, so this is just my opinion but I actually really enjoyed this volume!
I loved the opening, and I'm going to be needing that entire group to team up for their own comic at some point in life, it'd be so awesome! We join Carol after the events of..well..you know. Those events. Civil War II. Things got quite dark and grim, but this volume serves to bring the fun back.
Quite frankly, this volume is hilarious. Carol is snarktacular. I love her and I love how Stohl's voicing her. She's dealing with some stuff, and struggling a little bit after the previous events. She's got some inner struggles to deal with, and she's kind of fighting against herself. We get to explore her background a bit more, which I really enjoyed, both Kree and Bostonian.
We get some top quality banter and humour thanks to Carol and her crew, and it's quite punny here and there. I found myself chuckling or at least smiling multiple times while reading this volume. Puck and Wendy are my favourites, I think...but I love them all really!
The art and story pacing, I thought where good. We get to see some familiar faces, there's some brilliant pop culture references, there's adventure and excitement and it's a real mood lifter after previous Captain Marvel issues. We get the first phase, as it where, of what's going to be an interesting storyline, and there's just the right amount of intrigue and dangling threads for the next volume!
I feel like Stohl has created Carol perfectly, she's expanding on her character while keeping in mind and utilising things brought to the table by previous writers. I love all the undertones to Carol and her situation and how she's perceived, and been perceived since she was a kid. Carol goes against the grain a bit, and it's very relatable how she was expected to do one thing because she's a girl but she was like nah, eff that, I'm gonna do what I want to do. She's badass.
All in all, this was a humorous and fun volume that brings some lightness to what had turned very dark with previous volumes. There's plenty to enjoy, and plenty to look forward to in coming volumes, I have a feeling this is going to get better and better and be an excellent series!