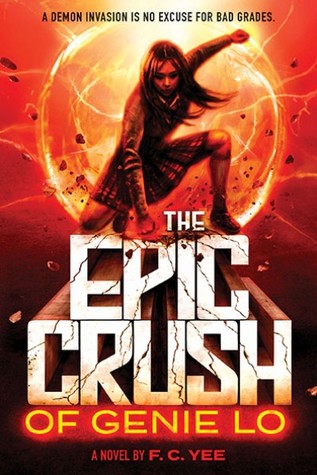 The Epic Crush of Genie Lo
Rating: 4/5
Buy or Borrow: Buy
Source: Copy courtesy of the publisher!
The struggle to get into a top-tier college consumes sixteen-year-old Genie Lo's every waking thought. But when her sleepy Bay Area town comes under siege from hell-spawn straight out of Chinese folklore, her priorities are suddenly and forcefully rearranged.
Her only guide to the demonic chaos breaking out around her is Quentin Sun, a beguiling, maddening new transfer student from overseas. Quentin assures Genie she is strong enough to fight these monsters, for she unknowingly harbors an inner power that can level the very gates of Heaven.
Genie will have to dig deep within herself to summon the otherworldly strength that Quentin keeps talking about. But as she does, she finds the secret of her true nature is entwined with his, in a way she could never have imagined…
This book is so freaking...well....awesome! Not only is it Own Voices, but it was so brilliantly written and it has one of the best opening lines ever! Plus Quentin himself has the best first line ever. I pretty much spent the entire book cackling away and basking in the awesomeness.
Sure there where some aspects to the book that where a bit predictable but I feel like the writing, characters, action and humour smashed that down in to the dirt. Genuinely, this is one of the funniest books I've read recently and I distinctly regret reading parts of it in a public place because it was really hard to not look insane, laughing away as I'm reading! It cracked me up.
I loved Genie's snarkiness, the biggest source of the humour. I also loved that she was so intelligent and ambitious and determined, it was inspiring...and then she kicked ass all over the place and I was like yep. You're my favourite. Need more of you! Oddly enough I liked how Genie had a mildly unlikeable personality, it made me love her more. She wasn't all simpering and too girly.
Quentin was freaking hilarious every time he opened his mouth, I snorted so much whenever he would come out with certain lines! I had a slight image issue with him though. My Dad's a huge fan of the Monkey TV show, and I ended up watching a load of episodes of it when I was a kid, so every time it mentioned how he was the Monkey King my brain was like "Monkeeeeeeyyy". It was a real problem :')
I really enjoyed the interactions and budding relationship between Genie and Quentin, they where such a brilliant duo and they worked so well together. I also loved that Genie acknowledged the weirdness of her situation multiple times, not just with Quentin and him being the Monkey King but with everything else going on. I thought the romance fit the pace of the book perfectly and I loved that Genie stuck to her guns and didn't go all girly girl, swooning over him and being useless once she started to fall for him.
I should also mention Yunie because I really loved her, she was such a solid friend to Genie, and I needed to see more of her! When she attacked Quentin I was like YAAAS QUEEN! I mean...she just went for it. She had Genie's back and I liked that Genie acknowledged her suckiness as a friend at one point because of everything going on before, I've read books before where the heroine ignores it and it's kind of a d*** move, but Genie was just so freaking relatable.
The mythology was another aspect of the book I completely loved. You guys know I love mythology and reading and learning about it and I loved learning all about it in this book. Genie relays the mythology to the audience so brilliantly too, and it had me chuckling as I was reading.
The Epic Crush of Genie Lo is a must read, it's a fantastic Own Voices book filled with mythology, humour and memorable characters! If, like me, you watch a lot of anime, then the fight scenes and battles and so on will remind you of that! I was loving it. I could so see this book as an anime. Noragami actually sprung to my mind more than once as I was reading! This is such a fun and refreshing book, and I'm reaaaalllly hoping there might be a sequel. I mean...the door is open for it!