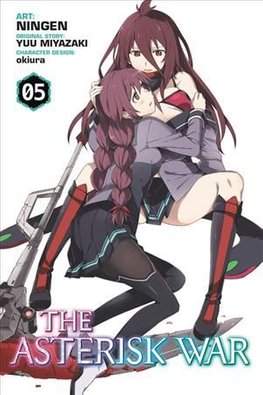 The Asterisk War Vol 5
Rating: 4/5
Buy or Borrow: Buy
Source: Copy courtesy of the publisher!
Ayato Amagiri, the chosen wielder of the Ser-Veresta, has made it into the Phoenix tournament with his tag-team partner, Julis. As they fight their way through the preliminaries, trouble is lurking in the shadows...and heading straight for Ayato!
The Phoenix tournament beeeegiiiiiiiinnnnnnssss! *crowd roars* Ayato and Julis spend most of this volume kicking all kinds of ass and it's awesome. This volume has such a good pace to it, we get plenty of action and some brilliant character work. There's a nice balance between the two. I feel like this volume was building character relationships and setting up some plot threads for the future more than anything, which has piqued my interest.
We get two new characters this volume, Irene and her sister Priscilla. They're fighting in the tournament too and it's all a bit vampire-y. Irene appears to want something from Ayato, and when we find out the motive behind it all...it provides another source of intrigue for coming volumes. I'm curious to see if the sisters will pop up again, they where a lot of fun and didn't hold back when it came to the fight.
Along with all the excitement of the tournament, Toudou and Sasamiya are trying to deepen their rapport ahead of their own battle! They need to improve their team work which means they need to bond a little bit! We get a nice look at the dynamic between the two of them which I'm hoping means we'll get to see them battling next volume!
There's some really great clues in this volume about Ayato's sister, plus whatever threat a certain character thinks Ayato is. I'm intrigued to see what the link is between the two! His Lux could prove interesting, because theirs obviously a secret to it and I want to know NOW! All of that, plus the information Irene revealed has me super excited for the next volume, and hopefully some more clues!
Volume Five of The Asterisk War moves us forward both plot-wise and character-wise, as well as sowing the seeds of intrigue for further volumes and I'm excited to get some more clues and see how it all unfolds!
Save
Save
Save
Save
Save
Save
Save
Save
Save
Save
Save
Save
Save
Save
Save
Save
Save
Save
Save
Save
Save
Save
Save
Save
Save
Save
Save
Save
Save
Save
Save
Save
Save
Save