Okay so I've been trying to save this because it's probably my favourite but I figured it was time, because Halloween is drawing ever closer! Today's rec post is all about ghosts. Now, I don't know about you, but I can handle most scary/horror things....except for ghosts. Ghosts freak me out to another level, like I had to go watch Paranormal Activity and I didn't sleep properly for a week. I used to watch Most Haunted ALL the time, and it always creeped me out. I think it's the whole not knowing thing that creeps me out, whatever!
Anyway, this category is my favourite because they're the only thing that can truly creep me out and there are a lot of great books in this post and a lot of my favourite series in particular!
The day Louisiana teenager Rory Deveaux arrives in London marks a memorable occasion. For Rory, it's the start of a new life at a London boarding school. But for many, this will be remembered as the day a series of brutal murders broke out across the city, gruesome crimes mimicking the horrific Jack the Ripper events of more than a century ago.
Soon "Rippermania" takes hold of modern-day London, and the police are left with few leads and no witnesses. Except one. Rory spotted the man police believe to be the prime suspect. But she is the only one who saw him. Even her roommate, who was walking with her at the time, didn't notice the mysterious man. So why can only Rory see him? And more urgently, why has Rory become his next target? In this edge-of-your-seat thriller, full of suspense, humor, and romance, Rory will learn the truth about the secret ghost police of London and discover her own shocking abilities.
This is one of my favourite series, and one of my library finds! I really do need to take another trip there to see what gems I find this time! I've read all three books, eagerly awaiting each new book, and now I'm desperate for book four! I love how Maureen has written this, it's creepy and there's originality and it's just SO good! But like...really creepy! And from this book it just keeps getting better and better!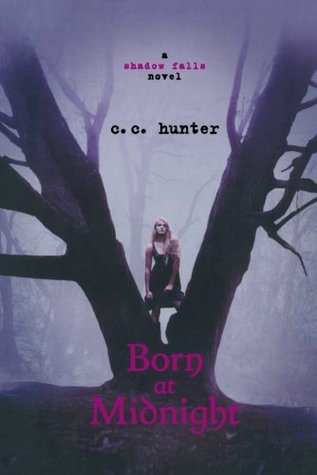 One night Kylie Galen finds herself at the wrong party, with the wrong people, and it changes her life forever. Her mother ships her off to Shadow Falls—a camp for troubled teens, and within hours of arriving, it becomes painfully clear that her fellow campers aren't just "troubled." Here at Shadow Falls, vampires, werewolves, shapeshifters, witches and fairies train side by side—learning to harness their powers, control their magic and live in the normal world.
Kylie's never felt normal, but surely she doesn't belong here with a bunch of paranormal freaks either. Or does she? They insist Kylie is one of them, and that she was brought here for a reason. As if life wasn't complicated enough, enter Derek and Lucas. Derek's a half-fae who's determined to be her boyfriend, and Lucas is a smokin' hot werewolf with whom Kylie shares a secret past. Both Derek and Lucas couldn't be more different, but they both have a powerful hold on her heart.
Even though Kylie feels deeply uncertain about everything, one thing is becoming painfully clear—Shadow Falls is exactly where she belongs…
This is one of my all time favourite series, and honestly, I really feel like it's totally underrated. Like I don't see many people reading it or saying they've read it! This series is SO damn good, I can't even. There's all kinds of supernaturals/paranormals, there's fun and romance and this series is incredibly creepy because GHOSTS! Kylie can see ghosts and they're usually bugging her to solve their murder and it's just so creepy a lot of the time!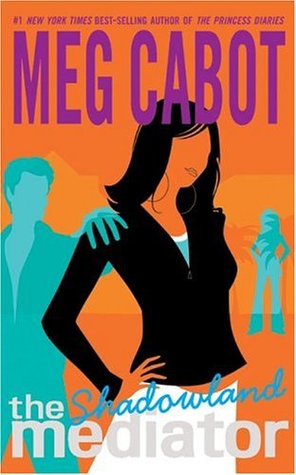 There's a hot guy in Susannah Simon's bedroom. Too bad he's a ghost.
Suze is a mediator - a liaison between the living and the dead. In other words, she sees dead people. And they won't leave her alone until she helps them resolve their unfinished business with the living. But Jesse, the hot ghost haunting her bedroom, doesn't seem to need her help. Which is a relief, because Suze has just moved to sunny California and plans to start fresh, with trips to the mall instead of the cemetery, and surfing instead of spectral visitations.
But the very first day at her new school, Suze realizes it's not that easy. There's a ghost with revenge on her mind... and Suze happens to be in the way.
Okay so this isn't the same level of creepy as the previous two books, and it's actually the least creepy of all the books on this list, but I had to include it because it's one of my favourite series! I read it when I was in school and it's one of my re-read series! These books are a lot of fun and there's a lot of mystery and ghosts!
Violet Willoughby doesn't believe in ghosts. But they believe in her. After spending years participating in her mother's elaborate ruse as a fraudulent medium, Violet is about as skeptical as they come in all matters supernatural. Now that she is being visited by a very persistent ghost, one who suffered a violent death, Violet can no longer ignore her unique ability. She must figure out what this ghost is trying to communicate, and quickly because the killer is still on the loose.
Afraid of ruining her chance to escape her mother's scheming through an advantageous marriage, Violet must keep her ability secret. The only person who can help her is Colin, a friend she's known since childhood, and whom she has grown to love. He understands the true Violet, but helping her on this path means they might never be together. Can Violet find a way to help this ghost without ruining her own chance at a future free of lies?
I only recently read this, and I actually read it for Spooktober! I read it in one sitting like I seem to find myself doing with all of Alyxandra's books, and I completely loved it! It was creepy, there was a totally cute romance and there was plenty of mystery to be solved! I loved the setting, and it really fit with the story, there's no way it would have worked in a modern setting!
Micheline Helsing is a tetrachromat—a girl who sees the auras of the undead in a prismatic spectrum. As one of the last descendants of the Van Helsing lineage, she has trained since childhood to destroy monsters both corporeal and spiritual: the corporeal undead go down by the bullet, the spiritual undead by the lens. With an analog SLR camera as her best weapon, Micheline exorcises ghosts by capturing their spiritual energy on film. She's aided by her crew: Oliver, a techno-whiz and the boy who developed her camera's technology; Jude, who can predict death; and Ryder, the boy Micheline has known and loved forever.
When a routine ghost hunt goes awry, Micheline and the boys are infected with a curse known as a soulchain
.
As the ghostly chains spread through their bodies, Micheline learns that if she doesn't exorcise her entity in seven days or less, she and her friends will die. Now pursued as a renegade agent by her monster-hunting father, Leonard Helsing, she must track and destroy an entity more powerful than anything she's faced before . . . or die trying.
Okay so I put this on the list because I started to read it not long after I got it, but then I got a build up of review books and had to put it on the back burner, which is where it's been ever since. Which is really bad of me but there you go! I'm hoping I'll have time to get to it this week because what I have read was really good, which is why I'm recommending it!
I never believed in ghosts. Until one tried to kill me.
When Kennedy Waters finds her mother dead, her world begins to unravel. She doesn't know that paranormal forces in a much darker world are the ones pulling the strings. Not until identical twins Jared and Lukas Lockhart break into Kennedy's room and destroy a dangerous spirit sent to kill her. The brothers reveal that her mother was part of an ancient secret society responsible for protecting the world from a vengeful demon — a society whose five members were all murdered on the same night.
Now Kennedy has to take her mother's place in the Legion if she wants to uncover the truth and stay alive. Along with new Legion members Priest and Alara, the teens race to find the only weapon that might be able to destroy the demon — battling the deadly spirits he controls every step of the way.
Okay Supernatural fans, this one's for you! As soon as I started to read this my brain screamed "Supernatural" at me, and I freaking love Supernatural! This book is so damn good, it's creepy, there's mystery and suspense and romance and I've been waiting for a third book for what feels like forever! I read both books in no time at all because I couldn't put them down. They're definitely Halloween material you guys!
Save
Save
Save
Save
Save
Save
Save
Save