Hey guys!
Happy Wednesday! This week I've got two cool reads for you guys!
The first is a book I stumbled across on GoodReads, I do a lot of that! I'm not sure if it's being published over here, but you'll be able to get it from BookDepository either way!
The Second is a book I've been waiting for, it sounds so awesome and right up my street! There's norse mythology, and you guys know how much I love Norse mythology!
Of Fire and Stars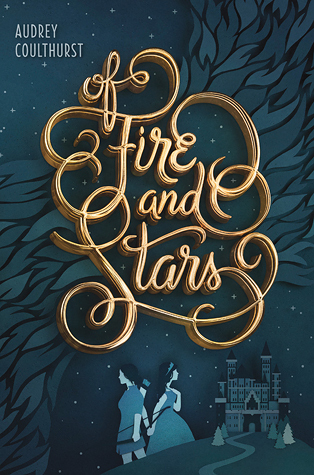 Betrothed since childhood to the prince of Mynaria, Princess Dennaleia has always known what her future holds. Her marriage will seal the alliance between Mynaria and her homeland, protecting her people from other hostile lands. But Denna has a secret. She possesses an Affinity for fire—a dangerous gift for the future queen of a kingdom where magic is forbidden.
Now, Denna must learn the ways of her new home while trying to hide her growing magic. To make matters worse, she must learn to ride Mynaria's formidable warhorses before her coronation—and her teacher is the person who intimidates her most, the prickly and unconventional Princess Amaranthine (called Mare), sister of her betrothed.
When a shocking assassination leaves the kingdom reeling, Mare and Denna reluctantly join forces to search for the culprit. As the two work together, each discovers there's more to the other than she thought. Mare is surprised by Denna's intelligence and bravery, while Denna is drawn to Mare's independent streak. Soon their friendship is threatening to blossom into something more.
But with dangerous conflict brewing that makes the alliance more important than ever, acting on their feelings could be deadly. Forced to choose between their duty and their hearts, Mare and Denna must find a way to save their kingdoms—and each other.
Of Fire and Stars is out November 22nd, pre-order your copy....here!
Add it to your TBR...here!
Runemarks
It's been five hundred years since the end of the world and society has rebuilt itself anew. The old Norse gods are no longer revered. Their tales have been banned. Magic is outlawed, and a new religion - the Order - has taken its place.
In a remote valley in the north, fourteen-year-old Maddy Smith is shunned for the ruinmark on her hand - a sign associated with the Bad Old Days. But what the villagers don't know is that Maddy has skills. According to One-Eye, the secretive Outlander who is Maddy's only real friend, her ruinmark - or runemark, as he calls it - is a sign of Chaos blood, magical powers and gods know what else...
Now, as the Order moves further north, threatening all the Worlds with conquest and Cleansing, Maddy must finally learn the truth to some unanswered questions about herself, her parentage, and her powers.
Runemarks is out November 24th, pre-order your copy....here!
Add it to your TBR...here!