Hey guys, happy Thursday!
Last Spooktober Recommends I hit you guys with Vampires...this time I thought I'd go with Witches because like Vampires...what's Halloween without witches!
I've got a fair few other recommends posts coming up for other themes, which are giving me a headache because some belong in multiple categories but I'm sure it'll work out fine! I've also got a couple of genre ones coming up too!
Sooooo...let's get Witchy!
Sixteeen-year-old Meredith is fed-up with her feuding family and feeling invisible at school – not to mention the witch magic that shoots out of her fingernails when she's stressed. Then sweet, sensitive Jack comes into her life and she falls for him hard. The only problem is that he is periodically possessed by a destructive centuries-old curse. Meredith has lost her heart, but will she also lose her life? Or in true fairytale tradition, can true love's kiss save the day?
The atmosphere to this book really fits with Halloween, the historical aspects to this book are very well done and a lot of fun, and there's magic...obviously! It's got some serious Sleeping Beauty vibes to it and it's a nice, fun read!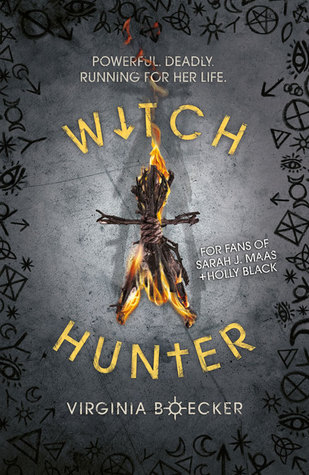 Sixteen-year-old Elizabeth Grey doesn't look dangerous. A tiny, blonde, wisp of a girl shouldn't know how to poison a wizard and make it look like an accident. Or take out ten necromancers with a single sword and a bag of salt. Or kill a man using only her thumb. But things are not always as they appear. Elizabeth is one of the best witch hunters in Anglia and a member of the king's elite guard, devoted to rooting out witchcraft and bringing those who practice it to justice. And in Anglia, the price of justice is high: death by burning.
When Elizabeth is accused of being a witch herself, she's arrested and thrown in prison. The king declares her a traitor and her life is all but forfeit. With just hours before she's to die at the stake, Elizabeth gets a visitor - Nicholas Perevil, the most powerful wizard in Anglia. He offers her a deal: he will free her from prison and save her from execution if she will track down the wizard who laid a deadly curse on him.
As Elizabeth uncovers the horrifying facts about Nicholas's curse and the unwitting role she played in its creation, she is forced to redefine the differences between right and wrong, friends and enemies, love and hate... and life and death.
This is such a good read for Halloween, there's the witch hunt element and there's a scene with it at the beginning which is really vivid and gives you chills! There's plenty of magic, and there's a little darkness to it! Not to mention some romance, because I know not all of you want to be terrified for Halloween, it's okay, neither do I!
In 1814, three cousins—Gretchen, Emma, and Penelope—discover their family lineage of witchcraft when a binding spell is broken, allowing their individual magical powers to manifest. Now, beyond the manicured gardens and ballrooms of Regency London, an alluring underworld available only to those with power is revealed to the cousins. By claiming their power, the three cousins have accidentally opened the gates to the underworld.

Now ghouls, hellhounds—and most terrifying of all, the spirits of dark witches known as the Greymalkin Sisters—are hunting and killing young debutante witches for their powers. And, somehow, Emma is connected to the murders…because she keeps finding the bodies.

Can the cousins seal the gates before another witch is killed…or even worse, before their new gifts are stripped away?
You guys know I love Alyxandra's books and I think this trilogy might just be my favourite! Although I am kinda disappointed the third book is a novella and isn't very long :( ANYWAY, I completely love this book. Historical setting, witches, magic, a nice dose of creepiness and romance that's totally cute! It has such Halloween vibes, it's a great read and it's one that I re-read regularly along with the sequel, but Emma holds a special place in my heart so this first book is my favourite!
This world is trying to kill Lily Proctor. Her life-threatening allergies keep her from enjoying experiences that others in her hometown of Salem take for granted, which is why she is determined to enjoy her first high school party with her best friend and longtime crush, Tristan. But after a humiliating incident in front of half her graduating class, Lily wishes she could just disappear.

Suddenly, Lily is in a different Salem—one overrun with horrifying creatures and ruled by powerful women called Crucibles. Strongest and cruelest of them all is Lillian . . . Lily's other self in this alternate universe.

What makes Lily weak at home is what makes her extraordinary in New Salem. In this confusing world, Lily is torn between responsibilities she can't hope to shoulder alone and a love she never expected.
Okay, so it's been a while since I read this, long story short, the covers changed and then I fell in love with the US ones, ANYWAY. I loved the angle this book took with everything, I was already a fan of the authors, and I got completely engrossed in this book! I loved the twists it had and it kept me reading until the end! Also, Salem!
If high school is all about social status, Indigo Blackwood has it made. Sure, her quirky mom owns an occult shop, and a nerd just won't stop trying to be her friend, but Indie is a popular cheerleader with a football-star boyfriend and a social circle powerful enough to ruin everyone at school. Who wouldn't want to be her?
Then a guy dies right before her eyes. And the dusty old family Bible her mom is freakishly possessive of is stolen. But it's when a frustratingly sexy stranger named Bishop enters Indie's world that she learns her destiny involves a lot more than pom-poms and parties. If she doesn't get the Bible back, every witch on the planet will die. And that's seriously bad news for Indie, because according to Bishop, she's a witch too.
Suddenly forced into a centuries-old war between witches and sorcerers, Indie's about to uncover the many dark truths about her life—and a future unlike any she ever imagined on top of the cheer pyramid.
I read this and it's sequel last year, because I got to review the sequel, and these are such fun reads! It had actually been a while since I'd read a witch at school kind of book, Trial by Fire doesn't really count! I think the last time was when I was in school myself because it had like a pink cover and a broom on it, but I can't remember what it was called! This book has a brilliant atmosphere to it, and it's another interesting take on witches!
As a private investigator and consultant for the police, Alex Craft has seen a lot of dark magic. But even though she's on good terms with Death himself—who happens to look fantastic in a pair of jeans—nothing has prepared her for her latest case. Alex is investigating a high profile murder when she's attacked by the 'shade' she's raising, which should be impossible. To top off her day, someone makes a serious attempt on her life, but Death saves her. Guess he likes having her around...
To solve this case Alex will have to team up with tough homicide detective Falin Andrews. Falin seems to be hiding something—though it's certainly not his dislike of Alex—but Alex knows she needs his help to navigate the tangled webs of mortal and paranormal politics, and to track down a killer wielding a magic so malevolent, it may cost Alex her life...and her soul.
So not a YA, this is my adult/NA contribution to my recommends! It's actually the only one I could think of, or at least the only one I've read! If there are others feel free to let me know in the comments! I stumbled across this at the library the other year and read all three, I've been waiting for the fourth book for what feels like years! I loved the take on witches in this, Alex being a grave witch, meaning she can talk to the dead! I found it kind of hard to pick a category for this, because it's got murder and other stuff too, but Witch is in the title so here we go! This book is a lot of fun, and it's got its creepy parts! It's also got humour and originality to it!
Hope you guys enjoyed the recs, and if there are any Witchy books that I haven't included let me know below! I've only included ones I've read you see!