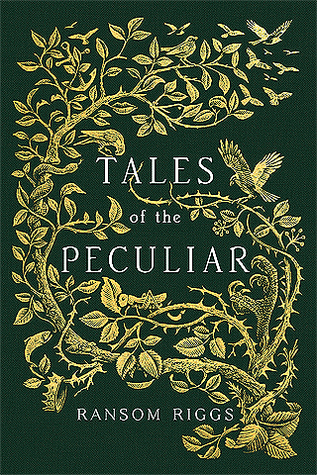 Tales of the Peculiar
Rating: 5/5
Buy or Borrow: Buy
Source: Copy courtesy of the publisher!
Before Miss Peregrine gave them a home, the story of peculiars was written in the Tales.



Wealthy cannibals who dine on the discarded limbs of peculiars. A fork-tongued princess. The origins of the first ymbryne. These are but a few of the truly brilliant stories in

Tales of the Peculiar

—known to hide information about the peculiar world—first introduced by Ransom Riggs in his Miss Peregrine's Peculiar Children series.





Riggs now invites you to share his secrets of peculiar history, with a collection of original stories, as collected and annotated by Millard Nullings, ward of Miss Peregrine and scholar of all things peculiar.
Okay, so, this is such a great addition to the Peregrine's Home books! I really feel like this book kind of rounds it out, The Last Ymbbryne for instance, had a great connection to the books and, our characters visited St. Pauls and the pigeons...I fangirled a hell of a lot while I was reading this, I can't lie! It's been a while since I read Peregrine's and this has given me the urge to re-read so badly! I loved reading about all these different Peculiars, and what they could do and how they coped with their talents and I could see how the stories would influence the Peculiars in the books.
Tales of the Peculiar is completely and utterly gorgeous, it has to be said! Sure the cover is, but the inside is even more stunning! There's a full page illustration at the beginning of each story and I LOVED how the first letter of the first sentence of each story was all illuminated, I believe the word is, like in really old books, so fancy!
I really did love the stories in the book, they where short, they where easy to read, they brought a smile to my face...even the ones that where a little bit grim. Hello cannibals! I liked what we got to see of the characters and I could feel for them as I read. I loved getting to see the history of the Peculiars as I read the stories, their history was kind of like the whole Salem/general Witches thing back in the day. I thought the stories where witty/humorous in a way that matched the Peregrine's books, they where darkly funny....an arm and a leg for instance.
I love Riggs's writing style, I love how he presented the stories, and I loved how they fit in with the books! I seriously loved this book, I can't say it enough! I was so hoping he'd do a book like this and then it was announced and it was like the best day ever! It's like the Peculiar version of Grimms! That's the only comparison I can think of! Morality and macabre merge together and it's so well done!
Save
Save
Save
Save
Save
Save