It's Wednesdaaaaay guys!
This week I've got two fun reads for you, and I'm really excited for one of these in particular because I thought it was US only but nope!
First up is a YA fantasy by one of my favourite authors, and if her name on the book doesn't sell you on it, then maybe the inclusion of Romeo and Juliet will! It definitely sounds original and like it's going to be a lot of fun!
Second up is a book I've been eagerly awaiting! Originally it was only for sale in the US only and before I realised books where custom free, I was having horrible visions of shipping and customs and it was putting me off the book! BUT then Simon and Schuster where all "Chill guys, we're gonna publish it over here" and I've been waiting for it ever since! The cover is a different colour to the original, I think, but I'm not sure! It depends if the cover is the final one! It's a nice little addition to the Shadowhunters series for fans!
Bright Smoke, Cold Fire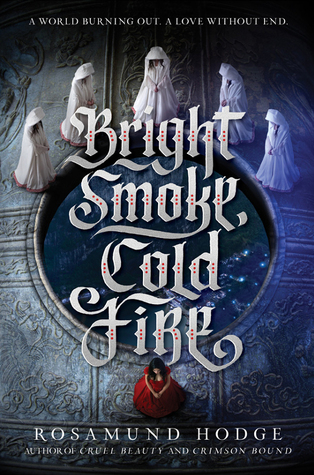 When the mysterious fog of the Ruining crept over the world, the living died and the dead rose. Only the walled city of Viyara was left untouched.
The heirs of the city's most powerful—and warring—families, Mahyanai Romeo and Juliet Catresou share a love deeper than duty, honor, even life itself. But the magic laid on Juliet at birth compels her to punish the enemies of her clan—and Romeo has just killed her cousin Tybalt. Which means he must die.
Paris Catresou has always wanted to serve his family by guarding Juliet. But when his ward tries to escape her fate, magic goes terribly wrong—killing her and leaving Paris bound to Romeo. If he wants to discover the truth of what happened, Paris must delve deep into the city, ally with his worst enemy . . . and perhaps turn against his own clan.
Mahyanai Runajo just wants to protect her city—but she's the only one who believes it's in peril. In her desperate hunt for information, she accidentally pulls Juliet from the mouth of death—and finds herself bound to the bitter, angry girl. Runajo quickly discovers Juliet might be the one person who can help her recover the secret to saving Viyara.
Both pairs will find friendship where they least expect it. Both will find that Viyara holds more secrets and dangers than anyone ever expected. And outside the walls, death is waiting. . .
Bright Smoke, Cold Fire is out November 3rd, pre-order your copy...here!
Add it to your TBR....here!
An Illustrated History of Notable Shadowhunters & Denizens of Downworld
A very special anthology that's a must for all fans of the Shadowhunter novels! Featuring characters from Cassandra Clare's international best-selling novels from the Shadowhunters world including The Mortal Instruments, The Infernal Devices and The Dark Artifices, this anthology showcases beautifully illustrated portraits from Cassandra Jean - creator of The Shadowhunter Tarot - alongside never-before-known details from Cassandra Clare about all your favourite characters.
An Illustrated History is out November 3rd, pre-order your copy...here!
Add it to your TBR...here!