Time for another recommends post you guys!
Today it's all about demons! There's magic too, but it's mainly demons which is why they're in this category! I've got some other fun rec posts coming your way right up until Halloween, and I've got a rec post for Halloween that, while short, should be good!
There's a mix here, it's all YA, but there's a historical one for you history nerds, some dystopian kinda ones, and then you know...regular modern day ones! Some of my ultimate favourite authors are in this list too, like "auto buy and would love them even if they wrote really bad fan fic not for my ship" kinda favourite.
London, April 1812. Eighteen-year-old Lady Helen Wrexhall is on the eve of her debut presentation to the Queen. Her life should be about gowns and dancing, and securing a suitable marriage. Instead, when one of her family's housemaids goes missing, Lady Helen is drawn to the shadows of Regency London.
There, she finds William, the Earl of Carlston. He has noticed the disappearance, too, and is one of the few who can stop the perpetrators: a cabal of powerful demons that has infiltrated every level of society. But Lady Helen's curiosity is the last thing Carlston wants—especially when he sees the searching intelligence behind her fluttering fan. Should Helen trust a man whose reputation is almost as black as his lingering eyes? And will her headstrong sense of justice lead them both into a death trap?
This is legitimately one of my favourite books of the year, I loved it! I loved the writing, the language, the plot, the romance and the characters and it hooked me in and kept me reading. I love the twist on demons in this book as well!
One kiss could be the last.
Seventeen-year-old Layla just wants to be normal. But with a kiss that kills anything with a soul, she's anything but normal. Half demon, half gargoyle, Layla has abilities no one else possesses.
Raised among the Wardens—a race of gargoyles tasked with hunting demons and keeping humanity safe—Layla tries to fit in, but that means hiding her own dark side from those she loves the most. Especially Zayne, the swoon-worthy, incredibly gorgeous and completely off-limits Warden she's crushed on since forever.
Then she meets Roth—a tattooed, sinfully hot demon who claims to know all her secrets. Layla knows she should stay away, but she's not sure she wants to—especially when that whole no-kissing thing isn't an issue, considering Roth has no soul.
But when Layla discovers she's the reason for the violent demon uprising, trusting Roth could not only ruin her chances with Zayne… it could brand her a traitor to her family. Worse yet, it could become a one-way ticket to the end of the world.
I will read ANYTHING that Jennifer writes. ANYTHING. I find it really hard to make decisions and I can't really choose an ultimate favourite author, but Jennifer is tied with a couple of others for that position and I met her at an event in the summer and she was so lovely, it has to be said! I'm gonna ask you all not to judge this by the title/cover. It's a brilliant trilogy, with demons and gargoyles. I loved that because when have you ever read a YA book about gargoyles? I couldn't say that I had before I read this! Jennifer's a great writer, she has brilliant characters, as well as plot and romance and action. Plus there's always plenty of humour!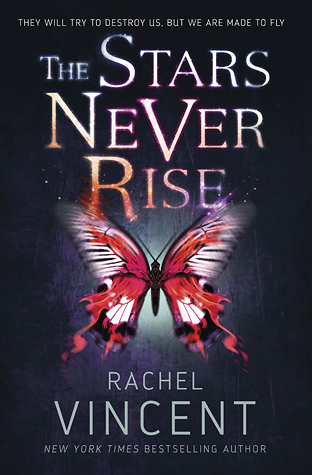 Sixteen-year-old Nina Kane should be worrying about her immortal soul, but she's too busy trying to actually survive. Her town's population has been decimated by soul-consuming demons, and souls are in short supply. Watching over her younger sister, Mellie, and scraping together food and money are all that matters. The two of them are a family. They gave up on their deadbeat mom a long time ago.
When Nina discovers that Mellie is keeping a secret that threatens their very existence, she'll do anything to protect her. Because in New Temperance, sins are prosecuted as crimes by the brutal Church and its army of black-robed exorcists. And Mellie's sin has put her in serious trouble.
To keep them both alive, Nina will need to trust Finn, a fugitive with deep green eyes who has already saved her life once and who might just be an exorcist. But what kind of exorcist wears a hoodie?
Wanted by the Church and hunted by dark forces, Nina knows she can't survive on her own. She needs Finn and his group of rogue friends just as much as they need her.
Rachel is another of my favourite authors, and this is the first in a duology. It's original, in many aspects, and is a breeze to read through because the book keeps you glued to the page! Demons...exorcists...totally Halloween right?!
Meet Meda. She eats people.
Well, technically, she eats their soul. But she totally promises to only go for people who deserve it. She's special. It's not her fault she enjoys it. She can't help being a bad guy. Besides, what else can she do? Her mother was killed and it's not like there are any other "soul-eaters" around to show her how to be different. That is, until the three men in suits show up.
They can do what she can do. They're like her. Meda might finally have a chance to figure out what she is. The problem? They kind of want to kill her. Before they get the chance Meda is rescued by crusaders, members of an elite group dedicated to wiping out Meda's kind. This is her chance! Play along with the "good guys" and she'll finally figure out what, exactly, her 'kind' is.
Be careful what you wish for. Playing capture the flag with her mortal enemies, babysitting a teenage boy with a hero complex, and trying to keep one step ahead of a too-clever girl are bad enough. But the Hunger is gaining on her.
The more she learns, the worse it gets. And when Meda uncovers a shocking secret about her mother, her past, and her destiny… she may finally give into it.
This is a series I stumbled across on NetGalley when this book was up to review, and I still haven't read the third book yet because I think they changed publisher, but I'm not sure, I kinda lost track. ANYWAY. This book is a lot of fun, mostly because of Meda and her narrative/inner monologue! It's definitely worth a read, if you fancy reading from the point of view of the "villain".
Riley Blackthorne just needs a chance to prove herself – and that's exactly what the demons are counting on…
Seventeen-year-old Riley, the only daughter of legendary demon trapper Paul Blackthorne, has always dreamed of following in her father's footsteps. The good news is, with human society seriously disrupted by economic upheaval and Lucifer increasing the number of demons in all major cities, Atlanta's local Trappers Guild needs all the help they can get – even from a girl. When she's not keeping up with her homework or trying to manage her growing crush on fellow apprentice Simon, Riley's out saving distressed citizens from foul-mouthed little devils – Grade One Hellspawn only, of course, per the strict rules of the Guild. Life's about as normal as can be for the average demon-trapping teen.
But then a Grade Five Geo-Fiend crashes Riley's routine assignment at a library, jeopardizing her life and her chosen livelihood. And, as if that wasn't bad enough, sudden tragedy strikes the Trappers Guild, spinning Riley down a more dangerous path than she ever could have imagined. As her whole world crashes down around her, who can Riley trust with her heart – and her life?
I can't remember how I came across this series, but I totally read all four in like..four days! Of course, now there's a novella and a fifth book, that I still need to get and read, but still! I loved these. There was a kinda Ghostbusters vibe to the beginning of the first book, there's romance and creepy demons and I love Jana's writing! I had no idea that these books are like basically out of print, but luckily the bind up of the first two is still available!
Nick and his brother Alan are on the run with their mother, who was once the lover of a powerful magician. When she left him, she stole an important charm - and he will stop at nothing to reclaim it. Now Alan has been marked with the sign of death by the magician's demon, and only Nick can save him. But to do so he must face those he has fled from all his life - the magicians - and kill them. So the hunted becomes the hunter...but in saving his brother, Nick discovers something that will unravel his whole past...
Sarah is another of my ultimate favourite authors, and this is the first book of hers that I got to read! I went to the library one weekend, as you do when you want something to read and you're a school student with limited funds, and I picked this up because it sounded intriguing. Next thing I knew, I'd read this and was back at the library to grab the others in the trilogy! I read them SO fast and then grabbed the first Lynburn Legacy book and then had to wait for each new book which was painful but there you go. ANYWAY. Demon's Lexicon is a great read with a great narrative, and it's a great read for all year round, let alone just Halloween! (As are all of these recs to be honest!)
Save
Save
Save
Save