Hey guys!
I'm on set right now but that's the beauty of scheduling posts!
Today I've got a little rec post for you, obviously, and it's all about Steampunk!
I love steampunk, it's one of my weaknesses and I've got a couple of recommendations for steampunk books that I feel fit with Halloween!
I love all of these books, and they're really, really good okay, I promise!
In 1897 England, sixteen-year-old Finley Jayne has no one... except the "thing" inside her.
When a young lord tries to take advantage of Finley, she fights back. And wins. But no
normal
Victorian girl has a darker side that makes her capable of knocking out a full-grown man with one punch...
Only Griffin King sees the magical darkness inside her that says she's special, says she's one of
them.
The orphaned duke takes her in from the gaslit streets against the wishes of his band of misfits: Emily, who has her own special abilities and an unrequited love for Sam, who is part robot; and Jasper, an American cowboy with a shadowy secret.
Griffin's investigating a criminal called The Machinist, the mastermind behind several recent crimes by automatons. Finley thinks she can help and finally be a part of something, finally fit in.
But The Machinist wants to tear Griff's little company of strays apart, and it isn't long before trust is tested on all sides. At least Finley knows whose side she's on even if it seems no one believes her.
Okay so I added this to the list because Finley kinda reminds me of Jekyll and Hyde a little bit but with a different twist/take. This series is one of my favourites and it's the series I went to once I read all of Parasol Protectorate and it was so freaking good! I just wish it was longer!
Alexia Tarabotti is laboring under a great many social tribulations.
First, she has no soul. Second, she's a spinster whose father is both Italian and dead. Third, she was rudely attacked by a vampire, breaking all standards of social etiquette.
Where to go from there? From bad to worse apparently, for Alexia accidentally kills the vampire--and then the appalling Lord Maccon (loud, messy, gorgeous, and werewolf) is sent by Queen Victoria to investigate.
With unexpected vampires appearing and expected vampires disappearing, everyone seems to believe Alexia responsible. Can she figure out what is actually happening to London's high society? Will her soulless ability to negate supernatural powers prove useful or just plain embarrassing? Finally, who is the real enemy, and do they have treacle tart?
This is the first steampunk book that I ever read and I found the entire series in the library and then ended up buying them all myself because SO GOOD! This has made the list because it has everything. Vampires, werewolves, murder...all things Halloween!
London, April 4, 1888 ~ Evelina Cooper, niece of Sherlock Holmes, is ready for her first London Season - except for a murderer, missing automatons, a sorcerer, and a talking mouse. In a Victorian era ruled by a ruthless steam baron council, mechanical power is the real monarch, and sorcery the demon enemy of the empire. Evelina has secretly mastered a coveted weapon - magic that can run machines. Should she trust the handsome, clever rake who speeds her breath, or the dashing trick rider who would dare anything she would ask?
I got to review this trilogy ages ago, when they where up on NetGalley and I really enjoyed them! Murder, the niece of Sherlock Holmes...it's a lot of fun and I think it'll make a good Halloween read!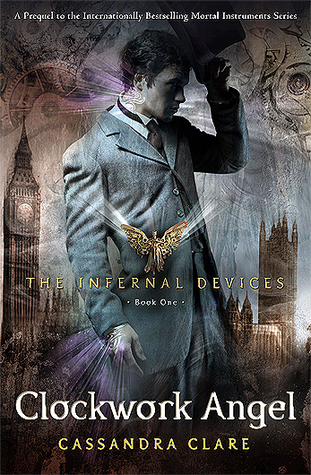 In a time when Shadowhunters are barely winning the fight against the forces of darkness, one battle will change the course of history forever. Welcome to the Infernal Devices trilogy, a stunning and dangerous prequel to the
New York Times
bestselling Mortal Instruments series.
The year is 1878. Tessa Gray descends into London's dark supernatural underworld in search of her missing brother. She soon discovers that her only allies are the demon-slaying Shadowhunters—including Will and Jem, the mysterious boys she is attracted to. Soon they find themselves up against the Pandemonium Club, a secret organization of vampires, demons, warlocks, and humans. Equipped with a magical army of unstoppable clockwork creatures, the Club is out to rule the British Empire, and only Tessa and her allies can stop them...
Of course this made the list....I freaking LOVE Infernal Devices so I had to squeeze it on to a Halloween rec list somewhere so here we go! Demons.....other downworlders...totally Halloween!
Welcome to the bizarre and dangerous world of Victorian London, a city teetering on the edge of revolution. Its people are ushering in a new era of technology, dazzled each day by new inventions. Airships soar in the skies over the city, whilst ground trains rumble through the streets and clockwork automatons are programmed to carry out menial tasks in the offices of lawyers, policemen and journalists.
But beneath this shiny veneer of progress lurks a sinister side. For this is also a world where ghostly policemen haunt the fog-laden alleyways of Whitechapel, where cadavers can rise from the dead and where Sir Maurice Newbury, Gentleman Investigator for the Crown, works tirelessly to protect the Empire from her foes.
When an airship crashes in mysterious circumstances, Sir Maurice and his recently appointed assistant Miss Veronica Hobbes are called in to investigate. Meanwhile, Scotland Yard is baffled by a spate of grisly murders and a terrifying plague is ravaging the slums of the city.
So begins an adventure quite unlike any other, a thrilling steampunk mystery and the first in the series of "Newbury & Hobbes" investigations.
Another series that I LOVE! Murder mystery and steampunk and fun. It's genuinely such a great series, and the main character isn't perfect which makes it even better! Plus it always keeps me guessing, every single time!
Save
Save
Save
Save
Save
Save