Another Wednesday, another load of fun reads to look forward to!
First up....I can't even. Meg Cabot is releasing a NEW Mediator book. A NEW MEDIATOR BOOK GUYS! It's an adult one and oh my God, I'm so freaking excited I really can't even. The Mediator is

probably

my favourite Meg Cabot series and I'm so freaking excited and it sounds SO AWESOME! She says as she still needs to read the latest, brand new Princess Diaries...*whistles*
Second is a book that I'm not sure on the title? It says Unhooked everywhere but then it says The Stars Turned Away on a couple of the covers?! EITHER WAY it sounds brilliant, and I know I'll be

picturing

Colin O'Donoghue as I'm reading. Seriously.
Let me know your picks in the comments!
Remembrance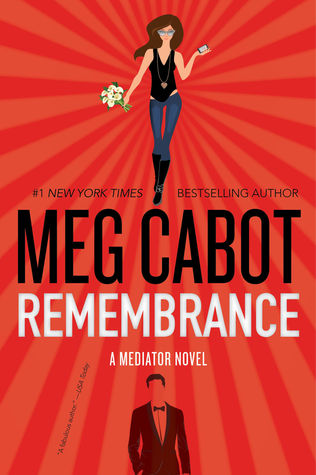 Suze Simon—all grown up and engaged to her once-ghostly soulmate—faces a vengeful spirit and an old enemy bent on ending Suze's wedded bliss before it begins.
You can take the boy out of the darkness.
But you can't take the darkness out of the boy.
All Susannah Simon wants is to make a good impression at her first job since graduating from college (and since becoming engaged to Dr. Jesse de Silva).
But when she's hired as a guidance counselor at her alma mater, she stumbles across a decade-old murder, and soon ancient history isn't all that's coming back to haunt her. Old ghosts as well as new ones are coming out of the woodwork, some to test her, some to vex her, and it isn't only because she's a mediator, gifted with second sight.
From a sophomore haunted by the murderous specter of a child, to ghosts of a very different kind—including Paul Slater, Suze's ex, who shows up to make a bargain Suze is certain must have come from the Devil himself—Suze isn't sure she'll make it through the semester, let alone to her wedding night.
Suze is used to striking first and asking questions later. But what happens when ghosts from her past—including one she found nearly impossible to resist—strike first?
What happens when old ghosts come back to haunt you?
If you're a mediator, you might have to kick a little ass.
Remembrance is out February 2nd, pre-order your copy....here!
Add it to your TBR...here!
Unhooked
For as long as she can remember, Gwendolyn Allister has never had a place to call home. Her mother believes they are being hunted by brutal monsters, and those delusions have brought them to London, far from the life Gwen had finally started to build for herself. Gwen's only saving grace is that her best friend, Olivia, is with her for the summer.

But shortly after their arrival, the girls are kidnapped by shadowy creatures and dragged to a world of flesh-eating sea hags and dangerous Fey. And Gwen begins to realize that maybe her mother isn't so crazy after all…

Gwen discovers that this new world she inhabits is called Neverland, but it's nothing like the Neverland you've heard about in stories. Here, good and evil lose their meaning and memories slip like water through your fingers. As Gwen struggles to remember where she came from and tries to find a way home, she must choose between trusting the charming fairy-tale hero who says all the right things and the captivating pirate who promises to keep her safe.

Caught in the ultimate battle between good and evil, with time running out and her enemies closing in, Gwen is forced to finally face the truths she's been hiding from all along. But can she save Neverland without losing herself?
Unkhooked is out February 2nd, pre-order your copy....here!
Add it to your TBR....here!