So this week I've got more gems for you!
First up is one hell of a

pretty

book,

and

I know you guys are going to like the sound of it! It's a

retelling

and I'm sure you all know which one it is!
Second is the next installment in a series by one of my favourite authors! I got to review the first Newbury and Hobbes book and that pretty much cemented the author as a favourite! I can't wait for the next books in the

series, and this other series sounds fantastic! I'm hoping to get my hands on it at some point, and I thought I'd share the third book because some of you guys might like it too and decide to check out the series!
A Thousand Nights
Lo-Melkhiin killed three hundred girls before he came to her village, looking for a wife. When she sees the dust cloud on the horizon, she knows he has arrived. She knows he will want the loveliest girl: her sister. She vows she will not let her be next.

And so she is taken in her sister's place, and she believes death will soon follow. Lo-Melkhiin's court is a dangerous palace filled with pretty things: intricate statues with wretched eyes, exquisite threads to weave the most beautiful garments. She sees everything as if for the last time. But the first sun rises and sets, and she is not dead. Night after night, Lo-Melkhiin comes to her and listens to the stories she tells, and day after day she is awoken by the sunrise. Exploring the palace, she begins to unlock years of fear that have tormented and silenced a kingdom. Lo-Melkhiin was not always a cruel ruler. Something went wrong.

Far away, in their village, her sister is mourning. Through her pain, she calls upon the desert winds, conjuring a subtle unseen magic, and something besides death stirs the air.

Back at the palace, the words she speaks to Lo-Melkhiin every night are given a strange life of their own. Little things, at first: a dress from home, a vision of her sister. With each tale she spins, her power grows. Soon she dreams of bigger, more terrible magic: power enough to save a king, if she can put an end to the rule of a monster.
A Thousand Nights is out October 22nd, pre-order your copy...here!
Add it to your TBR...here!
Ghosts Of Karnak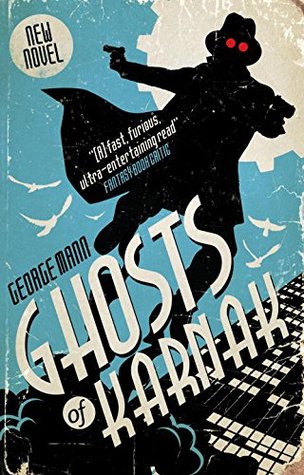 Things are quiet in New York. Unusually quiet. Gabriel – the Ghost – knows that something's wrong. There's a heat wave building for a start, and it feels as if the pressure's getting unbearable. Something's going to give.
When an expedition returns from Cairo to exhibit their finds at the Metropolitan Museum of Art, Gabriel takes a keen interest. An old friend and lover – a girl called Ginny, who he hasn't seen for over a year – was part of the expedition.
Something's not right with Ginny, however, and not just the fact she's still drinking…something happened to her in Cairo, out on the dig. Something that's related to a strange cult known as The Circle of Thoth, a baboon with a clockwork eye, dust devils on Fifth Avenue, robed assassins, sacrificial rites, a 'resurrection machine' and a ghostly figure clad in trailing bandages, seen floating over the rooftops of the city.
Ancient forces are stirring, and the Ghost, Ginny and Gabriel's friend Donovan are caught right in the middle…
Ghosts Of Karnak is out October 30th, pre-order your copy...here!
Add it to your TBR....here!