Heeey guys!
So, I've been trying to make my blog as Halloween-y as possible, in

between

my regular reviews and everything and I've got a couple of posts with Halloween themes....and this is one of them. Obviously!
Halloween is the perfect time for creepy reads, so for today's post I give you....the best creepy reads of this year! It's a mix of "oh my God I'm sleeping with the

lights

on...or not at all" and "creepy....but I'm still going to sleep like a baby" and ones that are just creepy but

manageably

so.
1. Day Four by Sarah Lotz
Four planes. Three survivors. One message. It seemed like the end of the world... but it wasn't. This, however, just might be.
The extraordinary, unforgettable sequel to THE THREE - perfect for fans of The Shining Girls, The Passage and Lost.
Four days into a five day singles cruise on the Gulf of Mexico, the ageing ship Beautiful Dreamer stops dead in the water. With no electricity and no cellular signals, the passengers and crew have no way to call for help. But everyone is certain that rescue teams will come looking for them soon. All they have to do is wait.
That is, until the toilets stop working and the food begins to run out. When the body of a woman is discovered in her cabin the passengers start to panic. There's a murderer on board the Beautiful Dreamer... and maybe something worse.
Not as creepy as The Three, but still....pretty frickin creepy, if I didn't already have an aversion to cruise ships thanks to various other books and movies...this would have done it in one.
Twenty-five years ago, Elmbridge High burned down. Three people were killed and one pupil, Carly Johnson, disappeared. Now a diary has been found in the ruins of the school. The diary belongs to Kaitlyn Johnson, Carly's identical twin sister. But Carly didn't have a twin . . .
Re-opened police records, psychiatric reports, transcripts of video footage and fragments of diary reveal a web of deceit and intrigue, violence and murder, raising a whole lot more questions than it answers.
Who was Kaitlyn and why did she only appear at night? Did she really exist or was she a figment of a disturbed mind? What were the illicit rituals taking place at the school? And just what did happen at Elmbridge in the events leading up to 'the Johnson Incident'?
Told through transcripts, diary entries, medical notes, and film footage transcripts, this book is really, very creepy as well as plenty chilling. It's also insanely addictive once you start reading.
After a supernatural showdown with a serial killer, Evie O'Neill has outed herself as a Diviner. Now that the world knows of her ability to "read" objects, and therefore, read the past, she has become a media darling, earning the title, "America's Sweetheart Seer." But not everyone is so accepting of the Diviners' abilities...
Meanwhile, mysterious deaths have been turning up in the city, victims of an unknown sleeping sickness. Can the Diviners descend into the dreamworld and catch a killer?
This sequel is a different brand of creepy to the whole "serial killer" creepiness of the first book. The whole "dream with me" has you like "noooooooo thanks" *turns on light* *tries to stay awake* or maybe I had a stronger reaction because I was still creeped from the first one when I read this one!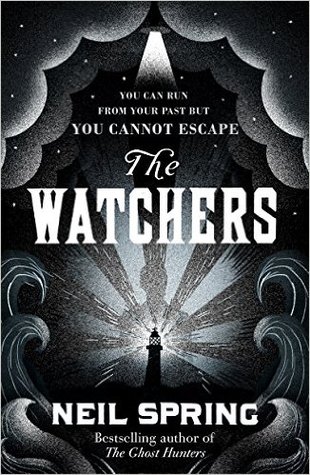 1977
The Havens, Wales

My Name is Robert Wilding.

Since childhood I have been running from my parents' deaths. From my grandfather Randall Llewellyn Pritchard - his fanatical omens about fires in the sky. From what happened at Broad Haven.

But now my memories have returned to haunt me.

In the ministry of Defence Room 800 I met the man who keeps the nation's secrets - who wants me to investigate the sightings at Broad Haven: the ghostly figures, the lights from another world.

I know its is my duty to expose the truth behind 'the happenings', even if it will be dangerous. Even though I may not live to tell the tale.

I know it is my duty, but still I am afraid. I know the Watchers will be waiting for me there.
Aliens. Strange goings on. The feeling of being watched. Watchers watching you. The creep factor is strong in this one.
5. The Accident Season by Moira Fowley-Doyle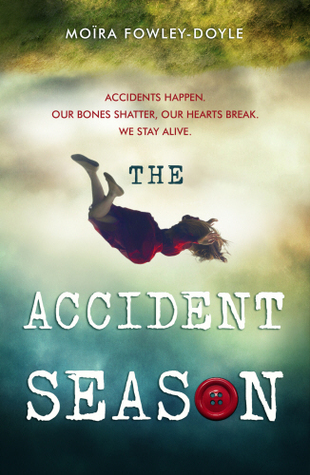 It's the accident season, the same time every year. Bones break, skin tears, bruises bloom.
The accident season has been part of seventeen-year-old Cara's life for as long as she can remember. Towards the end of October, foreshadowed by the deaths of many relatives before them, Cara's family becomes inexplicably accident-prone. They banish knives to locked drawers, cover sharp table edges with padding, switch off electrical items - but injuries follow wherever they go, and the accident season becomes an ever-growing obsession and fear.
But why are they so cursed? And how can they break free?
Creepy, but not keep you up all night creepy. Perfect for those who don't want to be
completely freaked out!
Eva Tilling wakes up in the hospital to discover an attempt has been made on her life. But who in her sleepy town could have hit her with their car? And why? Before she can consider the question, she finds that she's awoken with a strange new skill: the ability to foresee people's deaths when they touch her.
While she is recovering from the hit-and-run, Nate, an old friend, reappears, and the two must traverse their rocky past as they figure out how to use Eva's power to keep her friends - and themselves – alive. But the killer is obsessed and will stop at nothing to get to Eva…
Murdery serial killer creepy vibes, but with a little romance to keep it fairly light.
Toby's life was perfectly normal... until it was unravelled by something as simple as a blood test.

Taken from his family, Toby now lives in the Death House: an out-of-time existence far from the modern world, where he, and the others who live there, are studied by Matron and her team of nurses. They're looking for any sign of sickness. Any sign of their wards changing. Any sign that it's time to take them to the sanatorium.

No one returns from the sanatorium.

Withdrawn from his house-mates and living in his memories of the past, Toby spends his days fighting his fear. But then a new arrival in the house shatters the fragile peace, and everything changes.

Because everybody dies. It's how you choose to live that counts.
Creepy, dark and addictive. You'll end up reading this in one go, but
don't
worry, it's not "completely
freaked" creepy.