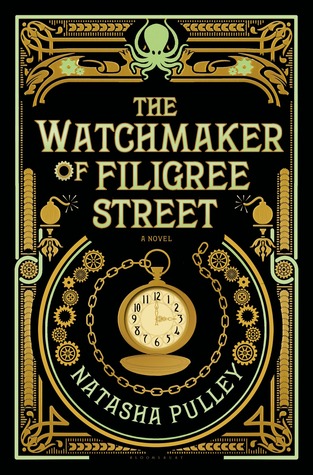 The Watchmaker of Filigree Street
Rating: 2/5
Buy or Borrow: Buy
Source: Copy courtesy of the publisher!
London, 1884. When Thaniel Steepleton comes home to find a new watch on his pillow, he has bigger things to worry about than generous burglars; he is a telegraphist at the Home Office, where he has just received a Fenian bomb threat. But six months later, the watch saves his life in a blast that destroys Scotland Yard, and at last, he goes in search of its maker.
He meets Keita Mori, a Japanese immigrant who remembers the future. As Mori begins to tweak daily life in Thaniel's favour, everything seems to be going well – until physicist Grace Carrow, attracted to Thaniel's refreshingly direct, unstuffy nature, unwittingly interferes. Soon, events spiral beyond Thaniel's control, and nothing is certain any more…
Well then, this book has a cover as rich as it's world. Seriously, the author truly brings the time period to life both in London and Tokyo giving you a satisfying taste of it and allowing you to be swallowed up in the world. I think for me, the richness of the world and how well it was brought to life is the best thing about the book. While the dialogue was fairly authentic, it was also very convoluted and hard to follow, and as a result I found characters motives hard to discern.
I liked the characters well enough, although perhaps if they had been fleshed out more I might have actually grown attached to them at some point over the course of the book. Although I will say I enjoyed the relationship between Mori and Thaniel, I felt like that was a part of the book that was very well done and I liked watching the friendship grow. However, I never felt like I got any strong emotion from the characters, nor did I see any depth to them, just intrigues.
I will admit I thought that Grace would be my favourite because ya know....rebellious daughter of a Lord and all that, and while I did like her, I never really understood her enough to properly connect with her and seeing as she was one view point of the book then it became quite problematic. Then there was the end of the book, when her part in events is "explained" except it's all explained in a giant info dump at the end and it still leaves you with no idea what her motivations are. I found her to be an enjoyable but very confusing character.
I thought Mori's powers were very well done, and added a nice element, and I also enjoyed the aspect of a Japanese man in London in this particular time period, it was quite interesting to read about and again showed a certain level of research. The only bad thing about Mori and his powers were the ones that were introduced at the end and just seemed very out of place and like it didn't really fit with the rest of the story or the world of the book.
I think my main issue was that the villain was too obvious, I had the villain pegged from the beginning and it took some of the enjoyment out of it. As I was reading I could practically see the author manipulating things to bring them together rather than reading it and seeing the character doing all of it if that makes sense? So many plot points were dropped at some point along the way and then you didn't hear
anything about them again until right at the end.
The book was very slow to get off the ground and I initially found my attention wandering until a good way in to the book, by which point I couldn't help but notice all the potential that had been missed. I found myself confused a vast majority of the time from all the dropped plot points and the convoluted dialogue. It was just all very confusing and after I'd seen so many people raving about it I found myself quite disappointed that I felt this way about the book, I had so wanted to love it like everyone else. Perhaps it was all the jumping about? Perhaps it was just my copy? Perhaps it was the surprise romance that felt like an afterthought? I don't know.
Although I will say, the one thing I really did love about the book was the clockwork octopus. Seriously. I want one and I need to know were to acquire one! Although at times I felt like I knew the octopus better than the other characters. I'm actually beginning to think I'm just thick and missed all the nuances of this book so it's probably just me rather than the book!