This week I have two books I'm stupidly excited for!
The first is the final book in a series I've been reading for ages, like since the first book came out! I got it at the library and then ended up buying it myself because I liked it, and I've been eagerly waiting each book!
The next book is the adult spin off from the Lux series, and you all know by now how much of a Jennifer Armentrout fan that I am so it shouldn't be surprising this one has made it on the list!
Night School: Endgame
The spy is gone but the cost has been high - the rebels at Cimmeria Academy have lost their leader and Carter West is missing. Nathaniel can taste victory. But Allie and the other survivors aren't done yet. First they have to get Carter back. Then they plan to make Nathaniel pay.
I know, I know, there's not much information in the synopsis, but that adds to the excitement, don't you think?
Endgame is out June 4th, pre-order your copy...here!
Add it to your TBR....here!
Obsession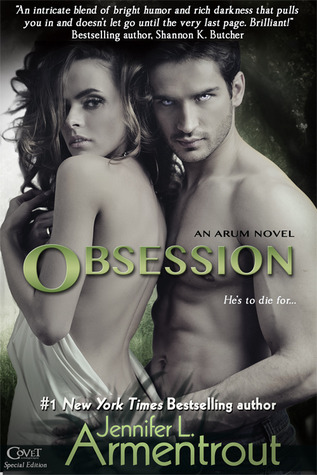 This is a stand alone novel that is an adult spin-off of the Lux Series You do not need to read a Lux book to read Obsession and vice versa.

He's arrogant, domineering, and... To. Die. For.
Hunter is a ruthless killer. And the Department of Defense has him firmly in their grasp, which usually doesn't chafe too badly because he gets to kill bad guys. Most of the time he enjoys his job. That is, until he's saddled with something he's never had to do before: protect a human from his mortal enemy.

Serena Cross didn't believe her best friend when she claimed to have seen the son of a powerful senator turn into something... unnatural. Who would? But then she witnesses her friend's murder at the hands of what can only be an alien, thrusting her into a world that will kill to protect their secret.

Hunter stirs Serena's temper and her lust despite their differences. Soon he's doing the unthinkable—breaking the rules he's lived by, going against the government to keep Serena safe. But are the aliens and the government the biggest threats to Serena's life… or is it Hunter?
Obsession is out June 4th, pre-order your copy...here!
Add it to your TBR...here!