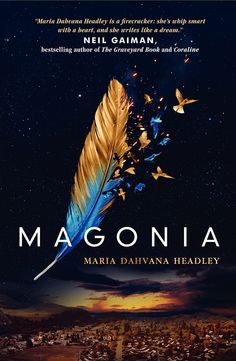 Rating: 4/5
Buy or Borrow: Buy
Source: Copy courtesy of the publisher!
Aza Ray is drowning in thin air.
Since she was a baby, Aza has suffered from a mysterious lung disease that makes it ever harder for her to breathe, to speak—to live.
So when Aza catches a glimpse of a ship in the sky, her family chalks it up to a cruel side effect of her medication. But Aza doesn't think this is a hallucination. She can hear someone on the ship calling her name.
Only her best friend, Jason, listens. Jason, who's always been there. Jason, for whom she might have more-than-friendly feelings. But before Aza can consider that thrilling idea, something goes terribly wrong. Aza is lost to our world—and found, by another. Magonia.
Above the clouds, in a land of trading ships, Aza is not the weak and dying thing she was. In Magonia, she can breathe for the first time. Better, she has immense power—and as she navigates her new life, she discovers that war is coming. Magonia and Earth are on the cusp of a reckoning. And in Aza's hands lies the fate of the whole of humanity—including the boy who loves her. Where do her loyalties lie?
I wasn't entirely sure what to expect with this book if I'm honest, and it took a direction I was utterly surprised by, I don't know why, I kind of thought it might be like this Josephine Angelini book I had read a while ago, but
Magonia is totally original and colourfully imaginative.
I have never read anything quite like this before, it's a blend of contemporary, science fiction and fantasy, dashes of magic with heavy doses of imagination that takes you out of this world and deposits you in to the world of the book 100%.
There where heavy doses of realism in this book, and I loved all the facts woven in to the story about UFO sightings and Magonia and so on, I was discovering these historical events that I had never heard of before, and I'll most likely have a sneaky Google later to find out more.
I'm always looking out for books that are doing something a little bit different and this one definitely is, rather than the same brand of mythologies, we get an entirely new and original one. The mythology for this book is richly fascinating, and totally original, it really gives your imagination a prod. There was a world that was invisible to us
regular people and surrounded by air, there where fantastical and unusual creatures, and at times it reminded me a bit of The Grisha, as well as Stardust but that could just be the fact it's an airship.
The characters are imaginative and intriguing, and very well written, and I'm hoping they'll make a come back for another book! This was written almost like a fairy tale and I can see the comparisons being made with Neil Gaiman.
I will admit, I did find it a bit hard to get in to, it was quite slow going in the beginning and then everything suddenly happened and at one or two points things felt a little bit rushed. Reading the first chapter was an adjustment as it felt like listening to someone nervously ramble on, and it was a huge information overload with loads coming at me all at once, but after a while I kind of got used to it and I was intrigued enough to read through it all.
Aza's narrative, was engaging and humorous, and her character development was huge. At the beginning she really annoyed me, and I didn't much like her, yet her narrative was compelling enough that I carried on reading, intrigued. But over the course of the book, she changes and you grow to like her more and more. The writing itself was atmospheric which helped to suck you in to the story and really made some scenes utterly perfect.
Love triangle alert! I feel I should mention this, but never fear. This is one done right. I don't want to spoil it but let's just say it was well done, it made sense, romance lovers will be quite happy! I loved Aza's relationship with Jason
though. I really did, it was so well done and they where so made for each other it must be said.
The highlight of the book for me was the world building though, it was a truly imaginative and fantastical world created from unknown mythology and there where ships in the sky and birds, singing birds, talking birds and everything and it was just such a vividly rich setting you couldn't help being sucked in to the story and kind of feel like you where floating along as you read.
Magonia is a captivating read and I'm intrigued for the second book where I'm hoping for a few questions to be answered and to learn more about the
world created. There where some bits that I didn't like, it was a bit slow to start, but by the end I was enchanted with the world and the characters and unable to put the book down!