Okay so, this week I have two again, the first one I'm very intrigued about because I loved Maze Runner and it seems to have a similar vibe, but with a twist!
The second book...well....it's so me it's not even funny, it's literally right up my street and I'm SO EXCITED for it it's ridiculous!
The Cage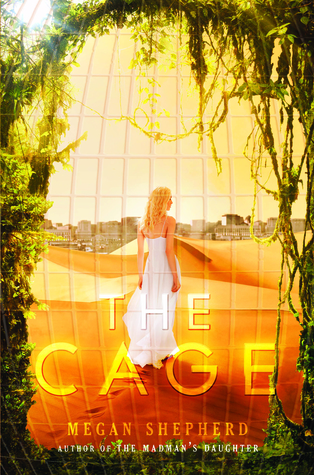 When Cora Mason wakes in a desert, she doesn't know where she is or who put her there. As she explores, she finds an impossible mix of environments—tundra next to desert, farm next to jungle, and a strangely empty town cobbled together from different cultures—all watched over by eerie black windows. And she isn't alone.
Four other teenagers have also been taken: a beautiful model, a tattooed smuggler, a secretive genius, and an army brat who seems to know too much about Cora's past. None of them have a clue as to what happened, and all of them have secrets. As the unlikely group struggles for leadership, they slowly start to trust each other. But when their mysterious jailer—a handsome young guard called Cassian—appears, they realize that their captivity is more terrifying than they could ever imagine: Their captors aren't from Earth. And they have taken the five teenagers for an otherworldly zoo—where the exhibits are humans.
As a forbidden attraction develops between Cora and Cassian, she realizes that her best chance of escape might be in the arms of her own jailer—though that would mean leaving the others behind. Can Cora manage to save herself and her companions? And if so . . . what world lies beyond the walls of their cage?
The Cage is out May 26th, pre-order your copy...here!
Add it to your TBR...here!
Witch Hunter
Sixteen-year-old Elizabeth Grey doesn't look dangerous. A tiny, blonde, wisp of a girl shouldn't know how to poison a wizard and make it look like an accident. Or take out ten necromancers with a single sword and a bag of salt. Or kill a man using only her thumb. But things are not always as they appear. Elizabeth is one of the best witch hunters in Anglia and a member of the king's elite guard, devoted to rooting out witchcraft and bringing those who practice it to justice. And in Anglia, the price of justice is high: death by burning.

When Elizabeth is accused of being a witch herself, she's arrested and thrown in prison. The king declares her a traitor and her life is all but forfeit. With just hours before she's to die at the stake, Elizabeth gets a visitor - Nicholas Perevil, the most powerful wizard in Anglia. He offers her a deal: he will free her from prison and save her from execution if she will track down the wizard who laid a deadly curse on him.

As Elizabeth uncovers the horrifying facts about Nicholas's curse and the unwitting role she played in its creation, she is forced to redefine the differences between right and wrong, friends and enemies, love and hate... and life and death.

The first book in an incredible new series set in a fantastical medieval world.
Witch Hunter is out June 4th, pre-order your copy....here!
Add it to your TBR...here!