This week I am super excited for three little gems!
One of these is one that I stumbled across when browsing GoodReads, something I usually do when I'm watching TV and I need something to do, I can never just sit and watch TV, I have to be doing something or eating something, and to be honest, I always end up with like a weeks worth of Hollyoaks to catch up on so yeah....browsing happens a lot! Which doesn't really help my TBR list!
Now, I'm sure Bane Chronicles needs no explanation, you all know by now I'm a huge Mortal Instruments fan.....right? ;)
The Name Of The Blade
Ancient Japanese gods and monsters are unleashed on modern-day London in this first book of an epic trilogy from acclaimed fantasy writer Zoë Marriott.
When Mio sneaks the family's katana -- a priceless ancestral sword -- from her parents' attic, she just wants to spice up a costume. But the katana is much more than a dusty antique. Awakening the power within the sword unleashes a terrible, ancient evil onto the streets of unsuspecting London. But it also releases Shinobu, a fearless warrior boy, from the depths of time. He helps to protect Mio -- and steals her heart. With creatures straight out of Japanese myths stalking her and her friends, Mio realizes that if she cannot keep the sword safe and learn to control its legendary powers, she will lose not only her own life . . . but the love of a lifetime.
The Name Of The Blade is out now! Buy your copy here.
The Bane Chronicles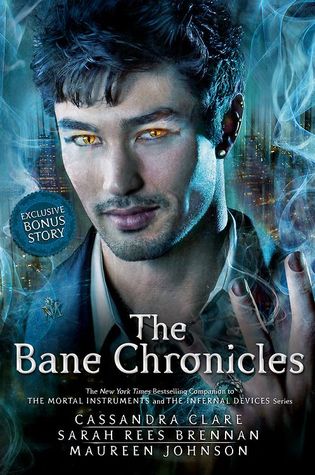 A Collection of Ten Short Stories centred around Magnus Bane. Each short story is going to be published as an ebook followed by a Full Single Print Coming 2014
Ever wondered about the enigmatic, mysterious warlock Magnus Bane? The only character to appear in every Shadowhunter book, Magnus has a past even more shrouded in mystery than his present. I've teamed up with acclaimed YA writers Maureen Johnson and Sarah Rees Brennan to create the Bane Chronicles, the back (and front) story of Magnus told in ten linked tales.
Look for short stories like Vampires, Scones and Edmund Herondale; The Rise and Fall of the Hotel Dumort; Saving Raphael Santiago and What To Buy The Shadowhunter Who Has Everything (And Who You're Not Officially Dating Anyway). Each story will be available as an ebook on a monthly basis starting April 16 with the tale of What Happened In Peru.
Each story will be released monthly online for the next ten months — and then for those who don't read e-books, the full print collection will be available in bookstores and wherever else books are sold after the Chronicles have been finished.
The Bane Chronicles is out now! Buy your copy here.