So like I said, I have next to no November books for this month's WFW, SO, there's been less than usual, and this week sees the tail end of November, so this week I have a couple of early December books, nice and in time for their upcoming release! And I mean......GEORGE R.R MARTIN NEW BOOK EEEEEEEE!
You can see I'm excited, huge Game Of Thrones fan, well excited for this new book!
As for my other pick this week....well I can never resist a Steampunky type read! I'm always on the lookout for new books as you all well know! ;)
The Ice Dragon
The ice dragon was a creature of legend and fear, for no man had ever tamed one. When it flew overhead, it left in its wake desolate cold and frozen land. But Adara was not afraid. For Adara was a winter child, born during the worst freeze that anyone, even the Old Ones, could remember.
Adara could not remember the first time she had seen the ice dragon. It seemed that it had always been in her life, glimpsed from afar as she played in the frigid snow long after the other children had fled the cold. In her fourth year she touched it, and in her fifth year she rode upon its broad, chilled back for the first time. Then, in her seventh year, on a calm summer day, fiery dragons from the North swooped down upon the peaceful farm that was Adara's home. And only a winter child--and the ice dragon who loved her--could save her world from utter destruction.
The Ice Dragon
marks the highly anticipated children's book debut of George R.R. Martin, the award-winning author of the
New York Times
best-selling series A Song of Ice and Fire and is set in the same world. Illustrated with lush, exquisitely detailed pencil drawings by acclaimed artist Yvonne Gilbert,
The Ice Dragon
is an unforgettable tale of courage, love, and sacrifice by one of the most honored fantasists of all time.
The Ice Dragon is out December 4th, pre-order your copy here.
Ticker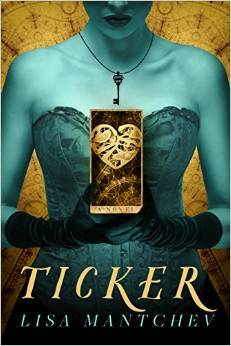 A girl with a clockwork heart must make every second count.
When Penny Farthing nearly dies, brilliant surgeon Calvin Warwick manages to implant a brass "Ticker" in her chest, transforming her into the first of the Augmented. But soon it's discovered that Warwick killed dozens of people as he strove to perfect another improved Ticker for Penny, and he's put on trial for mass murder.
On the last day of Warwick's trial, the Farthings' factory is bombed, Penny's parents disappear, and Penny and her brother, Nic, receive a ransom note demanding all of their Augmentation research if they want to see their parents again. Is someone is trying to destroy the Farthings…or is the motive more sinister?
Desperate to reunite their family and rescue their research, Penny and her brother recruit fiery baker Violet Nesselrode, gentleman-about-town Sebastian Stirling, and Marcus Kingsley, a young army general who has his own reasons for wanting to lift the veil between this world and the next. Wagers are placed, friends are lost, romance stages an ambush, and time is running out for the girl with the clockwork heart.
Ticker is out December 1st, pre-order your copy here.