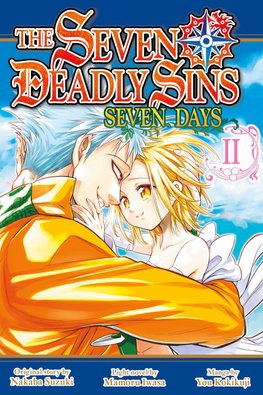 The Seven Deadly Sins: Seven Days Vol 2
Rating: 3.5/5
Buy or Borrow: Buy
Source: Copy courtesy of the publisher!
Elaine thought her troubles were over when she convinced Ban to give up on stealing the Fountain of Life, but keeping the rowdy young man in check might be more than one Saint can handle! While Ban's antics fulfill his promise to alleviate the last 700 years of loneliness, Elaine wishes he'd take up his thieving ways once more and steal her heart instead. Just when happiness is within reach for these two, an evil shadow covers the Fairy King's Forest, threatening to destroy all in its path...
With this volume, we get to see Elaine loosening up a little bit and having some fun! Plus the bonus chapters serve to show us why the forest started to trust Ban and didn't turn against him and it's not just because of the fact he didn't steal the Fountain like I'd kind of been assuming!
We do get some new content that we haven't seen before, showing their life in the forest and what they got up to besides the whole ale label collection viewing. But we do obviously get some content that we have seen before....namely the tragic part of their story that we've seen in the main series.
I have enjoyed delving more in to Elaine as a character and getting to see some more moments between her and Ban as well as the new mixed in with the old. It gives us a better understanding of what happened and fills in some blanks as well as adding depth and understanding to their relationship. It's also come at a perfect time to tie in with the main series!