Hey guys!
This week my excitement knows no bounds!
First up is the

third book in the Reckoners series, I need to actually catch up with this series, but I'm excited for the third book!
Second....I'M SO EXCITED GUYS, SO EXCITED! I've been waiting AGES for the ADSOM sequel. AGES I TELL YOU! And it's FINALLY here.....it's SO near....yet....so far! SO EXCITED! I've got my ADSOM bookmarks ready and raring to go!
Calamity
When Calamity lit up the sky, the Epics were born. David's fate has been tied to their villainy ever since that historic night. Steelheart killed his father. Firefight stole his heart. And now Regalia has turned his closest ally into a dangerous enemy.
David knew Prof's secret, and kept it even when Prof struggled to control the effects of his Epic powers. But facing Obliteration in Babilar was too much. Once the Reckoners' leader, Prof has now embraced his Epic destiny. He's disappeared into those murky shadows of menace Epics are infamous for the world over, and everyone knows there's no turning back. . .
But everyone is wrong. Redemption is possible for Epics—Megan proved it. They're not lost. Not completely. And David is just about crazy enough to face down the most powerful High Epic of all to get his friend back. Or die trying.
Calamity is out February 18th, pre-order your copy....here!
Add it to your TBR.....here!
A Gathering of Shadows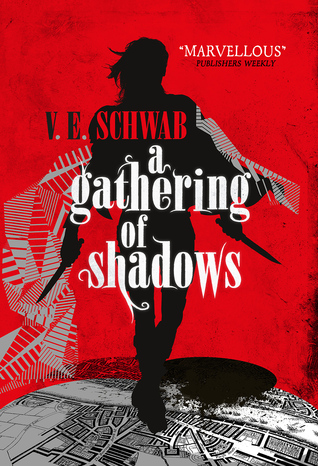 Four months have passed since the shadow stone fell into Kell's possession. Four months since his path crossed with Delilah Bard. Four months since Rhy was wounded and the Dane twins fell, and the stone was cast with Holland's dying body through the rift, and into Black London.
In many ways, things have almost returned to normal, though Rhy is more sober, and Kell is now plagued by his guilt. Restless, and having given up smuggling, Kell is visited by dreams of ominous magical events, waking only to think of Lila, who disappeared from the docks like she always meant to do. As Red London finalizes preparations for the Element Games—an extravagant international competition of magic, meant to entertain and keep healthy the ties between neighboring countries—a certain pirate ship draws closer, carrying old friends back into port.
But while Red London is caught up in the pageantry and thrills of the Games, another London is coming back to life, and those who were thought to be forever gone have returned. After all, a shadow that was gone in the night reappears in the morning, and so it seems Black London has risen again—meaning that another London must fall.
A Gathering of Shadows is out February 23rd, pre-order your copy....here!
Add it to your TBR.....here!