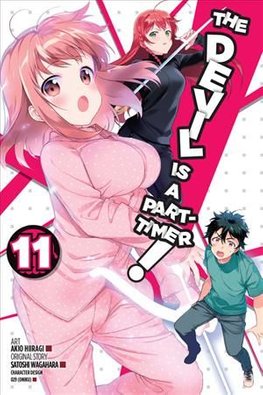 The Devil is a Part-Timer Vol 11
Rating: 4/5
Buy or Borrow: Buy
Source: Copy courtesy of the publisher!
Chiho has collapsed, and Maou and company have figured out that it must be the work of an Angel. The only thing left to figure out is whether they're holed up in Tokyo Tower or the Sky Tree. When the group finally finds whoever's responsible for hurting their friend, the ultimate Maou/Alciel combo is going to paint the town red!
Every time I read a volume of this series, I lament the fact that it still hasn't gotten a second season of anime...it really is such a gem and this volume is no exception.
Volume 11 opens with quite the battle...I mean, shopping trip. You could be forgiven for the mistake with how our little group, some more than others, carries on! They quite brutally exposed sales people and their methods....I've worked in 3 different stores and can confirm the accuracy of their statements too. *nervous chuckle* I have to say, much as I love Maou....Ashiya continues to be my favourite because of situations exactly like in this volume. He just cracks me up.
Speaking of Maou....he's suprisingly perceptive, even if he goes about voicing it the wrong way. I mean, we all know Rika has a thing for Ashiya. Unfortunately Maou has a tendency to be a bit too blunt about things, and Suzuno....well she gets a bit violent because of it. They do have quite an interesting discussion about what they are and what they should do with erasing Chi's memories and so on. They got quite deep actually, I didn't think Maou was quite capable of that!
It's actually quite nice to see Suzuno has gotten to know Maou and co well enough to know he isn't behind what's happened to Chiho, it saves us quite a bit of time. It really hit me in the feels this volume, how far their bond as a group has come!
We're straight in to the next story arc this volume, Raguel has made his move, and it isn't long before the gang figures out he's after Emilia's mother, Laila. There's some interesting reveals about Emilia and her family that leaves her (and us) with a lot to think about. Alongside that we get a nice bit of action as Maou Devils-out and goes up against Raguel and Gabriel!
I have to say, Gabriel is so irritating and he's not above getting a verbal jab in at any of the demons. He also drops loads of hints, like okay mate, have a day off. *Eye roll*.
Volume 11 is fast paced, with the usual doses of humour that have you laughing out loud, as well as some drama and action...and some twists and developments to liven things up. There's a particular development with Chiho that could prove to be interesting...things have certainly picked back up for this series!