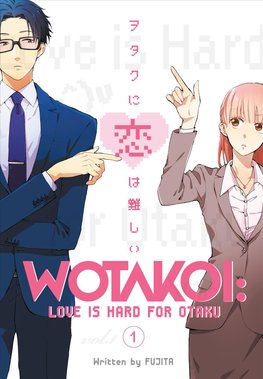 Wotakoi: Love Is Hard For Otaku Vol 1
Rating: 5/5
Buy or Borrow: Buy
Source: Copy courtesy of the publisher!
Narumi Momose has had it rough: Every boyfriend she's had dumped her once they found out she was an otaku, so she's gone to great lengths to hide it. When a chance meeting at her new job with childhood friend, fellow otaku, and now coworker Hirotaka Nifuji almost gets her secret outed at work, she comes up with a plan to make sure he never speaks up. But he comes up with a counter-proposal: Why doesn't she just date him instead?
This volume is surprisingly chunky....but it's actually two volumes in one! There's a lot of brilliant colour pages at the beginning of each volume too which was fun! Plus there's a tonne of information on the characters throughout, so we really get to know them this volume! Plus it helps to flesh them out a bit and fill in some blanks without bogging down the story!
I have to say, Wotakoi is funny from the start, and Narumi is so freaking relatable! I think she might be one of my favourite characters ever. She is literally all of us and I love her so much, I'm rooting for her! AS for Hirotaka...I love how he seems really expressionless, but then when he texts he's all about those cute emojis. I also love how he words/frames everything like a game. It makes the gaming nerd in me happy!
Hirotaka's little brother Naoya is hilariously opposite to him and he fully ships Narumi and Hirotaka! I'm really hoping we get to see more of him in the coming volumes and he gets some romance of his own!
Kabakura seems like a protective brother of Narumi's...or a fanboy. I'm still undecided on which. He and Koyanagi are freaking hilarious together...but also kind of cute when they want to be. But their arguments are priceless, like the insults really fly!
I love how the volumes are laid out, it really brings the nerdiness. There's little text boxes that pop up like in a game! Think Pokemon, like "A wild Kabakura has appeared" and then there's options etc sometimes too. Not only is it fun, but it also makes it so obvious what's going on in Narumi's head...which is pretty much what some of us would do a lot of the time too! There's also a tonne of bonus chapters along with the actual content, which is a lot of fun and provides some quick and entertaining scenes. Plus it provides more insight in to the characters and their relationships!
Wotakoi is an entertaining and hilarious first volume, introducing us to the characters and the start of their relationship. We have two couples, a veteran couple, if you will, and a newer one in the form of Narumi and Hirotaka. They're kind of navigating things and each other and learning how to date a fellow Otaku, instead of hiding their Otaku tendencies. I have to say, the nerdiness is strong with this new series, and I lived for it, plus there's a tonne of relatable moments too! The volume hits us with a cliffhanger as our new favourite couple are about to go on a *dun dun duuuuuunnn* date! I'm definitely going to be looking forward to each volume of this, for a dose of fun!