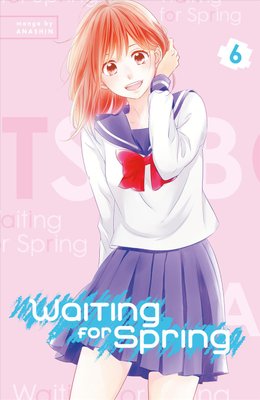 Waiting For Spring Vol 6
Rating: 4/5
Buy or Borrow: Buy
Source: Copy courtesy of the publisher!
In her efforts to become a more proactive person, Mitsuki has agreed to join the school festival committee. Now she must lead class in putting together a cafe for the day of the big event. Towa has agreed to help her, but his mind is elsewhere. His team is about to have a joint practice with Aya's team, and he and Aya will finally have a basketball showdown...!
Towa inexplicably agrees to cosplay for the cage their class is doing for the festival...much to Reina's delight and Mitsuki's bemusement. Mitsuki is all of us really, in this scenario. Turns out he's too focused on the practice against Aya which is imminent at the beginning of the volume. This series really doesn't hang about, the pacing is excellent! There's always something going on, whether it's action with the basketball games, or fluffy and cute scenes.
Aya manages to rile up Ryuji and Rui and get on their bad side...and mine, I'm not going to lie. He has a one on one match with Towa and...let's just say he's out to win. As usual the action shots are beautifully drawn, and I'm in awe of them!
There's a little bit of a mystery for us this volume, as something happens between Towa and Aya that we don't get to see, but other characters keep alluding to, and it ramps up the tension for the big showdown...and drives you mad in the process trying to work out what went on! To the extent I shrieked when Reina accidentally deleted the video! Like I said...it adds a nice bit of tension to this volume, and the game was wonderfully drawn. The tension between Aya and Towa really came off the page though.
I have to say...Towa finally gets some balls in this volume, and provides us with a cute moment to rival Aya...finally! He also manages to crack a smile and laugh! Woooooo progress!
Speaking of tension, Sudo gets her hands on Towa's wristband and see's a certain message...but she doesn't know who wrote it. However it does serve to give Rui some more page time as he realises Towa likes someone and Towa actually confesses to Rui who then starts to avoid him!? Oh yes folks, everything is kicking off this volume!
Sudo has her suspicions but she actually goes to Reina for advice which provides some hilarity because it's a hilarious disaster...like that's the worse person you could go to! At this point I'm waiting for it drop and Sudo find out and some more drama come in to the series.
Kyosuke is totally on to Towa and Mitsuki, despite the former trying to hide his feelings, and I'm curious to see if he's going to help them.
I have to mention Rui, because this volume...there's a question of if he has feelings for Mitsuki or not or if he just wants to be a good friend. His character is expanded upon a lot more this volume, and I was living for it. Mitsuki opens up to him and it was nice to see the two become closer. Rui said he's on her side and honestly, I ship the bromance between the two of them!
Things start to move this volume as Towa, with a push from Rui, determines to tell Mitsuki how he feels! ....I think. That's the impression I got anyway, but let's see if he follows through on it next volume! There's more potential drama being brought in, and more character development and growth throughout the volume! The volume ends on a cliffhanger, that had me screaming because of course when the thing happens with Mitsuki...Aya is right there. Forever screeching at this series honestly.
Oh and we get a cute bonus chapter featuring Towa and it's totally adorable!