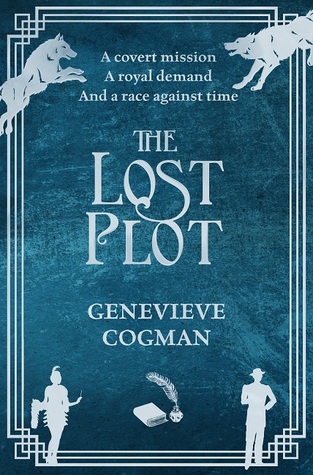 The Lost Plot
Rating: 5/5
Buy or Borrow: Buy
Source: Copy courtesy of the publisher!
A covert mission
A royal demand
And a race against time

The fourth title in Genevieve Cogman's witty and wonderful The Invisible Library series, The Lost Plot is an action-packed literary adventure.

In a 1930s-esque Chicago, Prohibition is in force, fedoras, flapper dresses and tommy guns are in fashion, and intrigue is afoot. Intrepid Librarians Irene and Kai find themselves caught in the middle of a dragon vs dragon contest. It seems a young librarian has become tangled in this conflict, and if they can't extricate him there could be serious political repercussions for the mysterious Library. And, as the balance of power across mighty factions hangs in the balance, this could even trigger war.

Irene and Kai find themselves trapped in a race against time (and dragons) to procure a rare book. They'll face gangsters, blackmail and fiendish security systems. And if this doesn't end well, it could have dire consequences for Irene's job. And, incidentally, for her life . . .
I've been anticipating this book so badly, this is one of my ultimate favourite series because of the excellent writing and the imaginative world...not to mention how original and fun it is! I pretty much read each new book and then wait restlessly for the next one before diving right in! I got to read all of this in one go thanks to my holiday and I have no regrets!
The opening is ominous with a sprinkle of humour and effortlessly sets out the current situation and sets us up for the book. The Lost Plot is fast paced and richly written as usual. We get to explore another imaginative and fun world that's vividly brought to life and we get to meet a load of new characters in Evariste, Lily, George, Hu and the other dragons.
It's certainly a wild ride and my brain enjoyed trying to work out all of the plot threads and who was up to what and what the bigger picture or rather scheme was. There where daring feats, and we get to see a lot more of the dragons and how they work and operate which is something I'd been hoping for I'm not going to lie!
I have to level with you, the ending had my heart in my mouth and while things ended on a happy note and you know...yaaaay my ship is sailing! I'm kind of worried about what's going to happen next and how much of a bearing on things this will have. Will we have less Kai? I'm going to be sad if he's not with Irene on her adventures anymore but I'm interested to see how it'll play out!
The Lost Plot is another fantastic instalment that had me glued to the pages with the characters, writing and action not to mention all the fun, interesting worlds to be explored. The stakes where perhaps the highest they've been yet and there was a lot of political manoeuvring to be done, but things have certainly changed by the end of the book that could have quite an interesting bearing on the next one!