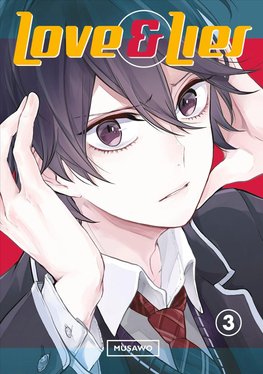 Love and Lies Vol 3
Rating: 3/5
Buy or Borrow: Buy
Source: Copy Courtesy of the publisher!
Yukari is dull. He doesn't even stand out enough to be bullied ? he's just a generally lower-middle-class kid. He's in love with Misaki, the most popular girl in school. There's just one problem: He's 15, one year away from receiving his government-assigned marriage partner. He normally wouldn't have the courage to defy the law, but his sickly classmate Ririna still believes in love, and won't stop goading him into confessing his feelings!
Sanada has a new friend in Arisa this volume, which is probably good seeing as she appears to have caught feelings or is starting to, anyway, for Yukari. She definitely needs someone to talk things out with! Agent Yajima provides us with an interesting tidbit after the worlds most awkward sex ed talk, whether or not it's true. The scene with the talk and what he implies really shows how screwed up the whole system is.
The love triangle is definitely developing as feelings have started to grow and change and various characters are starting to decide what they want. We still don't have answers about the mystery with Nisaka and Takasaki though and I'm getting quite impatient. I do feel like it's being dragged out a bit too much now, especially as I'm still waiting for things to really kick off with this series!