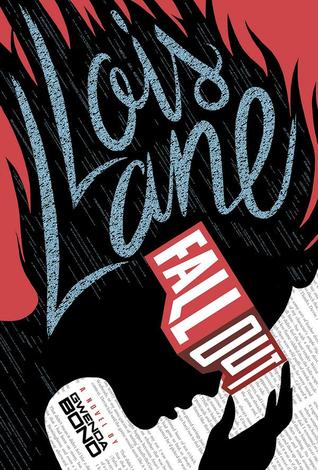 Fallout
Rating: 5/5
Buy or Borrow: Buy
Source: Copy courtesy of the publisher, Curious Fox!
Lois Lane is starting a new life in Metropolis. An Army brat, Lois has lived all over—and seen all kinds of things. (Some of them defy explanation, like the near-disaster she witnessed in Kansas in the middle of one night.) But now her family is putting down roots in the big city, and Lois is determined to fit in. Stay quiet. Fly straight. As soon as she steps into her new high school, though, she can see it won't be that easy. A group known as the Warheads is making life miserable for another girl at school. They're messing with her mind, somehow, via the high-tech immersive videogame they all play. Not cool. Armed with her wit and her new snazzy job as a reporter, Lois has her sights set on solving this mystery. But sometimes it's all a bit much. Thank goodness for her maybe-more-than-a friend, a guy she knows only by his screenname, SmallvilleGuy.
Whether or not you love the comics, or loved Smallville or any other show about Superman you need to read this, because this book is so awesome on so many levels! I'm a huge nerd, and a huge comic nerd and I completely loved every single page of this! I couldn't stop reading it and I managed to read it in one sitting, and I'm so desperate for more, so it's a good thing there's a second book coming right?!
Fallout goes straight in to the story and the plot with intrigue from the start, and I spent the entire book hooked on the mystery and trying to work out what was actually going on...and being totally wrong! I was genuinely thrown straight in to the world of the book and the story and I became completely immersed in the book and what was going on.
I loved Lois and her narrative, it was entertaining and snarky, which I love! I loved Lois because she stands up for herself as well as others, she wants to help and protect other people. She's not been afraid to call out people and make things right because she's always moved and avoided consequences, but it's different for her in this book because East Metropolis High is going to be permanent for her, so her struggling with wanting to help but wanting to change was interesting to watch and I felt for her and understood her. She just wanted to fit in, but I loved how she was true to herself. She was such a strong and interesting character. I loved how she was brought to life, and I loved getting to know her better and see a teen her, it was so brilliantly done!
Lois isn't the only fantastic character in the book, her fellow journalists are a brilliant bunch of characters and I loved all of them, even the one I didn't like for most of the book! They all worked well together as a group, I loved watching the friendships develop and the dynamic of the group. Each character had more going on than met the eye, they're all brilliantly brought to life. I loved Maddy, I felt for her and her romance situation, but she was completely brilliant, she's in to music and I loved her t-shirts! I loved her friendship with Lois in particular! Devin is the computer genius out of the four of them, and he's a bit of a gamer geek. His banter with Lois was hilarious and he himself cracked me up plenty! James I didn't like much in the beginning, but as the book went on my opinion changed. He wasn't at all what he seemed, and when he finally got involved and helped out I really started to think, okay...you might not be so bad! I'm excited for the next book to see how the characters grow and develop, and how their friendships change, but James in particular! I also loved Anavi and her huge vocabulary, and I'm hoping we see more of her in the next book, and she stays friends with Lois and Maddy!
While we had a lot of nice characters who where awesome and I loved all of them...we also had the bad characters. The Principle was brilliantly douchey and I'm intrigued to see what happens to him in the next book. We have the Warheads who where a whole new level of creepy, not going to lie you guys. They where horrible bullies, and despite being horrendous characters and making me so angry at them...they where brilliantly created. They really freaked me out to be honest. I should also mention there's some characters from the comics, Perry White for instance who's also in the movies and that old Superman show that I used to watch! I watch Supergirl as well and we have Lucy Lane on the show, and we had the General make an appearance, so it's also brilliant seeing those two as well and getting a better understanding of them.
I completely love how Bond has brought in Clark! I wasn't expecting him to be in the book at all, but then I read the synopsis and I was like okay, but I still wasn't expecting him to be in the book as much as he was and it was AWESOME! I also have my suspicions about who his friend is...the friend with all the computer mojo. I loved bringing Clark in using the messaging system, after having them meet on a message board after the Kansas incident. They don't know what each other looks like, or what they sound like, but they're friends..possibly more than friends. I enjoyed the conversations between the two of them, and their rather complicated relationship. He helps her out, while she helps other people, and they're friends, but I liked the tension between them because she knows he's keeping a secret and wants to know who he is, and how the author wrote it and them together and it was so perfect. Especially the end!
I loved the newspaper angle to the book, I can't imagine Lois not being a journalist, and I loved seeing her discover that journalism is what she wants to do in this book! As well as Perry kind of taking her under his wing by getting her involved and everything. Lois and co work at the Daily Scoop which is the teen imprint of the Daily Planet and it was a brilliant addition, because I was expecting like a school paper, and so this angle completely surprised and delighted me!
I loved the plot, it kept me guessing, it kept me gripped because it became obvious that there's way more going on than you think. There where lots of threads to it, that all come together to make the plot, and because of the plot you just can't put the book down. The book was brilliantly written, the pace was fantastic, and the atmosphere and the feel/vibe to the book where perfect. The book was genuinely so imaginative, the game aspect in particular. As soon as I realised what the game tech was and how it works I instantly got bad vibes because it reminded me of Sword Art Online, which I was in the midst of watching while reading this book!
The game really sucks you in, just as much as Metropolis! The descriptions are vivid, and one minute you'll be in Metropolis, and then the game is springing up around you. Each setting is vividly brought to life before your eyes and you find yourself completely in the book. Both the game and Metropolis and the school have their own atmospheres, each one helps to bring the setting to life, helps to pull you in to the action and what's going on. You can feel the atmospheres' in the book and it's a brilliant addition to the world building.
Bond makes so many references and ties to Superman and the comics and the movies and show's and so on. SmallvilleGuy for instance. Not to mention his race in the
game which cracked me up! Perry White, the Daily Planet, all the strange sightings in Kansas, the strange phenomena going on in general! I think comic fans will be happy with the book, and will be squealing at all the links and mentions! I love what Bond has done, and how she's linked everything and how she's adding on to the world of DC/Superman through Lois. She's expanded on what we already know, and put her own mark and imagination on it to bring it to life, while keeping it linked with everything else.
Fallout was a brilliant read. I could get completely lost in the book, and lose track of what was going on around me. It was funny, it had brilliant characters who worked well together and who you could root for. Lois in particular, you root for her, you can see she's a journalistic hero! The characters are strong, both main and secondary, and brilliantly brought to life. The plot grips you with the mystery as more elements are added in. There's brilliant breaks in the narrative as Lois scans the Strange Skies message boards or when she's talking to Clark. Clark himself is brilliantly brought in to the book without being all about him. You see a different side of him! There's other links to the comics and shows and movies, and it's a fan's dream basically!
Fallout is a book that you can read in one sitting and then immediately want to read it again. There is nothing to not love in the book and I loved every single page. I wanted more, and I was sad it was over and sad to leave the book because the author is doing brilliant things with Lois! I'm excited for the next book, and to see what trouble Lois and her new friends are going to get in to next!