Hey guys!
How are we all! We're about to hit March which meaaaaans....it's nearly my biirrrfffffday! Yaaay!
ANYWAY!
This week as usual, I've picked out two books coming soon that I think you guys will love as much as I do!
First up...the third book in a steampunk series that I am completely and utterly loving! You guys have no idea! I really need to check out the authors other work if it's as awesome as this series is! It's steampunk, but there's mysteries and the characters are flawed in such a realistic way! Pure brilliance!
The second book is a new book from an author I haven't read before! I've heard about her other novels and am so intrigued by them, and this one sounds just as intriguing! Especially as there isn't much about the plot floating about!
The Immorality Engine
Gentleman Investigator for the Crown, Sir Maurice Newbury, has brilliantly solved a number of near-impossible cases for Queen Victoria along with his assistant, Miss Veronica Hobbes. But while all appears well on the surface, Newbury has an increasingly uncontrollable secret...What was once a flirtation with the lure of opium has turned into a full-blown addiction for Newbury.
Hobbes, along with Newbury's dear friend Bainbridge, the chief investigator at Scotland Yard, try to cover for him as much as possible, but when the body of a well known criminal turns up, Bainbridge and Hobbes drag Newbury from an opium den to help them with the case. The body is irrefutably that of the criminal, but shortly after his body is brought to the morgue, a crime is discovered that bears all the dead man's hallmarks.Newbury and Hobbes will come face to face with their hardest and darkest investigation to date. These are no copycat killings...But how can a dead man commit a crime?
The Immorality Engine is out March 11th, pre-order your copy...here!
Add it to your TBR....here!
Wink Poppy Midnight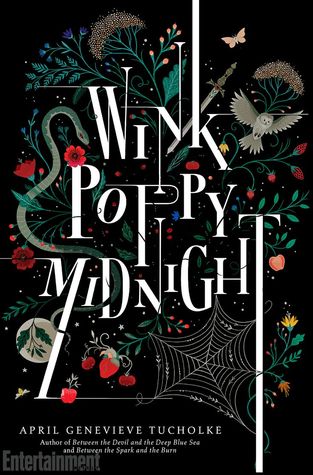 Every story needs a hero.
Every story needs a villain.
Every story needs a secret.
Wink is the odd, mysterious neighbor girl, wild red hair and freckles. Poppy is the blond bully and the beautiful, manipulative high school queen bee. Midnight is the sweet, uncertain boy caught between them. Wink. Poppy. Midnight. Two girls. One boy. Three voices that burst onto the page in short, sharp, bewitching chapters, and spiral swiftly and inexorably toward something terrible or tricky or tremendous.
What really happened?
Someone knows.
Someone is lying
.
Wink. Poppy. Midnight is out April 1st, pre-order your copy...here!
Add it to your TBR...here!