So, I was lucky enough to be sent both of the books to review and I got to read them back to back and oh my God you guys they where so good! Everyone raves about them, and I'm always kind of wary but I loved them! I've got two reviews in one bumper post for you guys!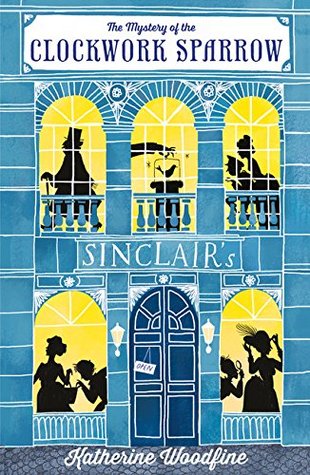 The Mystery of The Clockwork Sparrow
Rating: 5/5
Buy or Borrow: Buy
Source: Copy courtesy of the publisher, Egmont!
You are cordially invited to attend the Grand Opening of Sinclair's department store!
Enter a world of bonbons, hats, perfumes and MYSTERIES around every corner. WONDER at the daring theft of the priceless CLOCKWORK SPARROW! TREMBLE as the most DASTARDLY criminals in London enact their wicked plans! GASP as our bold heroines, Miss Sophie Taylor and Miss Lilian Rose, CRACK CODES, DEVOUR ICED BUNS and vow to bring the villians to justice…
I don't know why specifically but this gave me such Cat Royal vibes. Cat Royal is a series by Julia Golding and yes I am too old to read them
still, but I can't bring myself to throw them out so there. ANYWAY. This gave me some real vibes from those books, possibly the whole gang of people from all walks of life coming together to solve a mystery thing, but I loved it! It's very authentic, there's clearly been a lot of research done and it shows in the book. You can vividly picture Sinclair's, as well as the streets and the lodging house.
I loved all of the characters, especially Lil, I connected to her as much as I did to Sophie, possibly because of the whole actress thing! But I loved Sophie and I loved Lil, I admired Sophie so much, she kept strong and did what she had to, rather than doing what some people in her position might have, and being completely useless and just unwilling to do a hard days work...she ignores all the jibes and gets on with it. I'm suspecting more to her father's death as well, possibly to do with the Baron!
Anyway, Billy and Joe where brilliant too, I loved how Billy had those stories he loved and was getting to be like the character in real life, and Joe was a brilliant contrast to him. I liked how he was willing to help them even though he didn't know them, and was wary of the Baron. I loved the friendship that forms between the four of them, and especially between Lil and Sophie as poor Sophie was a bit of a loner and Lil just kind of took her under her wing and was like "yep, you're my friend now!" it was beaut! They where all brilliantly brought to life, and have interesting back stories that you want to know more about. There's also a whole load of other colourful characters, the Private Detective, Sinclair himself, and more, all fantastically created to help bring the story to life!
It's a fun and easy read, and while I did work out who the culprit was....I still hadn't put all of the pieces together that where presented to us and I ended up being surprised more than once! I found myself intrigued and completely gripped to the story trying to work everything out. There where lots of little clues and threads to the story that all came together brilliantly in the end, to create a fantastic plot. There's a larger scheme going on than you first think, and there's a lot at stake. It was wrapped up so well with a few loose threads to set us up for the next book and further adventures!
As you're reading you find yourself completely lost in the glittering world of the department store, even when it's just behind the scenes, it had a very theatrical feel to it I think! I just love how it was all brought to life. I enjoyed the newspaper clippings and other little pieces that broke up the narrative and gave you a visual, particularly when it involved code! I also liked the different hats at each part of the book, and the writing about them, it really fit with the story and helped bring you in to the time period. It really is a fantastic book! Now I'm off to read book two!
Rating: 5/5
Buy or Borrow: Buy
Source: Copy courtesy of the publisher, Egmont!
The honour of your company is requested at lord beaucastle's fancy dress ball. Wonder at the puzzling disappearance of the Jewelled Moth! Marvel as our heroines, Sophie and Lil, don cunning disguises, mingle in high society and munch many cucumber sandwiches to solve this curious case! Applaud their bravery as they follow a trail of terrible secrets that leads straight to London's most dangerous criminal mastermind, and could put their own lives at risk...It will be the most thrilling event of the season!
So, I dived straight in to this after the first one, and if it's even possible...it's even better! We get to see a different side to London and there's new characters for us to get to know and enjoy!
We still get the paper clippings, among other things, to break up the narrative, and each part now has an extract from the Etiquette for Debutantes book, which was oddly fascinating. To see how they where expected to act, and all the rules and things that we find strange and kind of insulting in this day and age!
New character Mei greets us with her narrative, and it immediately intrigued me. I'd already seen the authors article about her research for this book, so I was excited to read all about this other China Town. Much like most other people...I was completely unaware of this other China town in London, and I'm kinda disappointed in myself because I'm a history nerd and yet I didn't know?! There's even a brilliant authors note at the back of the book with more information, and I'm feeling a trip out to that part of London to have a scout about!
ANYWAY Mei's POV brought us right in to the story, and things are looking dire, the Baron is back and is extending his reach in to China Town and Mei's family are caught up in it. She gives us the rather interesting story that her Grandfather told, all about the Moonbeam Diamond and how their family looked after it. Man that story made me angry, because so typical of our people! In other words, Mei ties in perfectly with the story right from the beginning but it's a while before she comes in to play. But I loved her POV and seeing what life was like for her!
We also have new character Veronica, through her we get all about the life of a debutante, which, much like the extracts, is oddly fascinating. While she wasn't always the nicest person, I did feel for her because she didn't have a lot of choice in her life, and she was always watched, and she even says at one point she has no choice because that's not how things are done. Then at the end I loved her even more because she did something completely unexpected and it was awesome!
Much like the first book, the POV switches where brilliant, we just have two more POV's than usual. I love how in these books, they give you an extra insight in to the characters, and helps you to understand them, like Joe and his odd behaviour at points in this book. Each character has a distinctive voice and an entertaining narrative and you can always tell which character is narrating.
All of our favourite characters are back and better than ever, Sophie is a lot happier, Lil is going for bigger things, and Joe is happy now that he has a job but is still wary of going to the Baron's Boy's territory. Billy in contrast, is just as meticulous with his notes as ever, but at times I wanted to smack him one because he was like "Miss Atwood this, Miss Atwood that" "I can't do that because of so and so" like seriously Billy!? I thought you lived for this stuff!? But then Sophie's probably right about him!
I loved how everything tied together, especially between Mei and Veronica, from two incredibly separate worlds. It was brilliant! But then I knew from the first book that the author is brilliant at bringing all these different threads together and tying them up! I also like how the author showed the differences between Mei's part of London and the others. The different between Sinclair's and Mei's parent's shop. The difference between Piccadilly/Belgrave Square and Shadwell/Limehouse. It was fantastically done and very subtle.
The mystery was solved surprisingly early on in the book...but it didn't end there. With the reveal of the culprit came more questions, and more threads because there was way more going on, than met the eye. The plot was even bigger than the previous book! There was an entire other mystery to solve, and I was just as gripped by this book, and the
mystery. Again I worked out the culprit of the theft, but at the same time...I was surprised a million times because like I said, there was so much more going on that I couldn't even guess at!
The build up to the climax and all the action in the book was brilliant and there were so many absolutely fantastic scenes in this book! The Debutante tea party, the entire ball sequence (which was both funny and full of suspense at the same time), the scene at the end with the Baron and the people of China Town, then McDermott showing up, and before that Pendleton and Veronica and all the others showing up, pure brilliance. Honestly, there where so many scenes that had me laughing as well as being on edge the very next second!
This is such a brilliant sequel and every bit as fantastic as the first book, it's just as fun as the first book and just as easy to read, as well as keeping you on your toes! You can read it one go, and get completely lost in the book and I loved exploring a different side to London in this book! There's still more questions left to be answered, especially as there's some mini mysteries popping up. Like Sophie's parents. I'm convinced even more now that The Baron had something to do with Sophie's father's dodgy will and ya know...death. I'm waiting for it to all come out! But then there's another piece of the puzzle thrown in with her mother! I can't take it with all the mystery! Anyway, I'm sure we'll see the Baron again because he's all ominous like that. I'm so ridiculously excited for the next book because it sounds even more awesome, and I'm looking forward to watching Lil and Sophie become badass lady detectives!