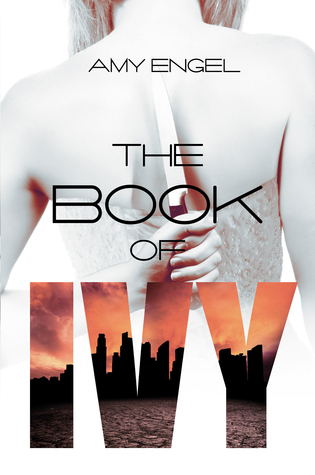 The Book Of Ivy
Rating: 4/5
Buy or Borrow: Buy
Source: Copy courtesy of NetGalley
After a brutal nuclear war, the United States was left decimated. A small group of survivors eventually banded together, but only after more conflict over which family would govern the new nation. The Westfalls lost. Fifty years later, peace and control are maintained by marrying the daughters of the losing side to the sons of the winning group in a yearly ritual.
This year, it is my turn.
My name is Ivy Westfall, and my mission is simple: to kill the president's son—my soon-to-be husband—and restore the Westfall family to power.
But Bishop Lattimer is either a very skilled actor or he's not the cruel, heartless boy my family warned me to expect. He might even be the one person in this world who truly understands me. But there is no escape from my fate. I am the only one who can restore the Westfall legacy.
Because Bishop must die. And I must be the one to kill him…
I could make a reference to a certain book by a certain author who's name begins with S and has a character who also has the surname that Ivy has....but I won't. Instead I will say GIMME GIMME MORE! I need the next book now, I say this a lot, but seriously I really do, I'm on such a roll lately and this another series to add to the favourites.
It's a breath of fresh air in the dystopian genre, and I couldn't put it down, I had to keep reading, I was totally sucked in by the world and the plot and just....I'm so sad it's over. It's got one of those worlds that you just don't want to leave once it sucks you in.
Not to mention the cast of well written, full of depth characters that jump off the page and really come alive with the authors words. I loved all of them, except Callie, what a bitch. Ugh. But anyway, Ivy is easy to connect with and I really loved her. I felt for her so badly and then there was the whole thing with her family. I felt angry on her behalf for what Callie and her father where doing to her and everything and ugh. Next book needed.
The plot was fantastic, it keeps you going, it's intense, there's romance as well, and it's the slow building kind of romance that slowly develops and is just utterly perfect. Bishop and Ivy are totally cute together, Bishop makes you melt and then Ivy can break your heart and it's just a rollercoaster of emotions.
It was a unique concept, based on something that's still an issue in our own time and world, arranged marriage. And it really makes you picture what life would be like for you if you lived in that time. What would happen to you? What would you do if you where Ivy?
The Book Of Ivy is just an utterly fantastic read that will totally suck you in, with characters you'll love, the authors writing will paint a vivid picture for you with an atmosphere and will make you feel so many emotions right along with Ivy. You're left wanting more, wanting to know what's going to happen to Ivy and how she's going to adapt to this situation and change and so on.