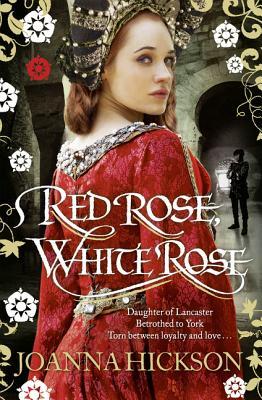 Red Rose, White Rose
Rating: 3/5
Buy or Borrow: Buy
Source: Copy courtesy of the publisher
The powerful story of Cecily Neville, torn between both sides in the War of the Roses. Perfect for fans of Philippa Gregory.
Richard, the thirteen-year-old Duke of York, England's richest heir.
Told through the eyes of Cicely and her half-brother Cuthbert, Red Rose, White Rose is the story of one of the most powerful women in England during one of its most turbulent periods. Born of Lancaster and married to York, the willowy and wayward Cicely treads a hazardous path through love, loss and imprisonment and between the violent factions of Lancaster and York, as the Wars of the Roses tear England's ruling families apart.
So nearly queen herself, Cicely Neville was the mother, grandmother and great-grandmother of kings – and her descendants still wear the crown.
So this randomly arrived in the post from Harper, giving me a lovely little surprise and I started reading it almost immediately! I love a historical fiction book!
This has clearly been well researched, there's so many historical facts woven in to the narrative, and it's utterly fascinating! I was learning additional information to what I already knew, I love how you can learn from well written historical novels, while enjoying a plot and being fully engaged, and it just helps you to keep reading because it's utterly fascinating.
I absolutely loved watching Cecily grow and mature over the course of the book, she was such a strong character and had so much influence for a woman of her time. She was an incredible character and one I didn't know much about, so it was fantastic getting to know her...sort of! Each character was so authentic, they where all written as realistically as can be with the information known, and they all came alive, particularly the women!
The narrative was engaging, the plot was complex and covered a hell of a lot of ground, and events, and like I said, it was fascinating and interesting and at points quite gripping. It was a bit of a dodgy time, and that's putting it mildly! It was as interesting as it was fascinating to learn what it was like to live in that time with the marriages and the whole King thing.
The thing that bothered me about this, however, was that while at points it was gripping, it was also a liittle bit boring, because sometimes the pace slowed down a bit, and while I loved all of the information, and all of the facts, at times it did bog down the pace and was a bit hard to get through, and remember who everyone was and so on, which slightly detracted from the story at points because I was trying to remember a person and wasn't entirely focusing on the narrative until I'd worked out who they where!
Despite that little blip, which wasn't entirely unexpected when a book is well researched, I still enjoyed the book, and I'm looking forward to seeing more from the author, what historical figure she'll focus on next, and teach me about!