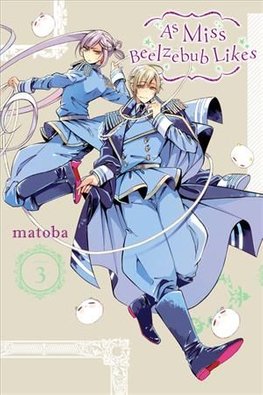 As Miss Beelzebub Likes Vol 3
Rating: 4/5
Buy or Borrow: Buy
Source: Copy courtesy of the publisher!
Sargatanas continues to watch over the womanizing Astaroth, who may be falling in love with his servant.
Well the volume opens rather...interestingly. There's an odd amount of focus on those little angel hair balls. I mean they're cute but...okay. From the start we spend a bit of time getting to know Sargatanas a bit better, bless her she just wants to go to the theme cafe for those weird little angel hair balls, and she really doesn't know how to do inconspicuous. It was nice to see a softer side of her, and it made her a bit more relatable. Meanwhile good old Mullin upsets Beelzebub.
This volume we meet Morrigan and learn more about the structure of Pandemonium, plus we get to meet Lilim who's trying to get hired into the Succubus division and her target to make that happen is Mullin. Of course. He's her target for her final exam and she's got all the time in the world to pull it off. Although Mullin being Mullin he's totally oblivious and Beelzebub might not appreciate it. I'm anticipating her popping up every now and again, fruitlessly trying to get his attention.
I thought we where going to get the generic beach scene, but I was pleasantly surprised with how it played out. Although it does serve to get Mullin to finally act his age, I never thought I'd hear him say the words "bro" and "cut abs" in the same sentence. And oh my lord, Belphegor nearly does the Thing. SO CLOSE.
This volume gives us a lot more cute, little fluffy moments as well as hilarity. Beelzebub wants to get to know more about Mullin but isn't sure how to find out and we could have another ship on the horizon with Sargatanas and Astaroth who, let's be real, I've been shipping since day one. I enjoyed the focus on Sargatanas, it brought her to life more, and made her easier to relate to by seeing different sides of her, like the fact she's so worried about how she seems on the outside.