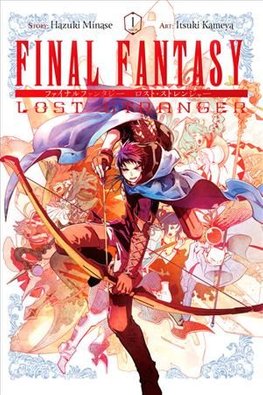 Final Fantasy: The Lost Stranger Vol 1
Rating: 5/5
Buy or Borrow: Buy
Source: Copy courtesy of the publisher!
Scoring a job at Square Enix, Sasaki Shogo's dream of producing a Final Fantasy game finally seems within his grasp! But after he starts, he quickly discovers that the work has nothing to do with his favorite franchise at all... Disillusioned, his enthusiasm for FF begins waning despite his sister / co-worker Yuko's attempts to lift his spirits. Their conversation is cut short, though, when a runaway truck suddenly careens toward the two of them...!
When Shogo comes to, the first thing he sees is...a Moogle?! Wait, was that a Cure spell? And chocobos...?! Hurled into a Final Fantasy world unbound to any particular installment, how will an uber-fan like Shogo survive?!
First things first, the colour pages for this are freaking gorgeous and so is the art as a whole. Sometimes with game adaptions the art looks a bit...well...game-ish. Not so for this one! It's seriously beautiful and I love the character designs and the colours used.
Shogo...well he's all of us when we get waaaaaay too in to a game, and as for Yuko? Her nerdy talk to her brother was hilarious and fully got me prepped to dive in to the world of Final Fantasy. I'm not going to lie...it's been a while since I've played one of the games but I now have the urge to binge play them!
The pace for this volume is fast, and I liked that upon transporting to the world they didn't get stupidly strong powers, and get over powered, or turn out to be the Chosen Ones etc. They had to work at it and work up from the bottom. Shogo using his knowledge of Final Fantasy and strategy guides to help them out was another nice touch.
Fair warning, chapter one doesn't play and it hits you with a plot twist that I 100% didn't see coming and it genuinely shocked me. To the extent I was kind of just staring at the page like...did that just happen? What? How? Why? It certainly throws in an interesting direction to the plot.
Alongside Shogo and Yuko there's a hilarious cast of support characters in Rei, Duston and Sharu. Rei tries really hard to be all grouchy but you can tell that deep down...the caring feels are there. I'm enjoying seeing Shogo adapting to the world and his losses and trying to become better, as well as using his brain to build his way up. I also like the

camaraderie

between he and his group!
This is a cracking first volume, with an excellent pace, relatable and entertaining characters, plenty to keep my fellow Final Fantasy game nerds happy...and a shock twist that completely blows you away.