Hey guys! How's it going?
Who's looking forward to the Summer!? Schools out soon which means it's time to start gathering together your summer reading list!
I thought I'd help you out on the manga front with some of the new manga for this Summer! All of the ones I've selected are series that are starting this summer with the first volume, there's a sneaky light novel or two in there as well! Let me know which ones you'll be checking out!
Tales of Zestiria
The manga adaptation of the bestselling Japanese RPG, released in English for the first time!
Sorey is a human boy who has lived all his life in The Divine Forest, side-by-side with heavenly, but secretive creatures known as Seraphim, which includes his best friend Mikleo. While investigating the old ruins near their home for Seraphim lore, they meet a young woman named Alisha, a knight seeking answers to the calamities drawing their world to ruin. Upon learning that the Seraphim may have a connection to the destruction, Sorey decides it's time to leave The Divine Forest. With Mikleo and Alisha at his side, Sorey will seek out the truth behind the catastrophes--and discover his own hidden powers in the process.
Beasts of Abigaile
Beasts of Abigaile is a brand new supernatural shoujo manga series that follows a young woman's fantastical adventures in the mythical country of Ruberia - and all the trials, tribulations, and attractive half-beast people that come with it! In this exciting new series loosely inspired by the classic story of Little Red Riding Hood, readers will be drawn into a beautifully illustrated story of magical adventure and romance. Tsukishiro Nina has just arrived in the beautiful country of Ruberia, and its charming denizens and lush scenery are like a fairy tale come true. Yet suddenly, Nina finds herself set upon by strange attackers until she is rescued by a mysterious young man with a steely gaze, calm disposition - and wolf ears! Whisked away into a grand adventure, Nina must keep her wits about her if she's to learn the secret of Abigaile Castle in a magical world where everyone either makes her blood boil or her young heart race!
Generation Witch
Generation Witch is a new slice of life manga series with a magical twist. This charming story line follows the lives of several young witches as they struggle with the dual challenges of wielding magic and teenage angst, and will appeal to fans of Sabrina the Teenage Witch and Witchcraft Works. In the world of Generation Witch, 1% of the population are witches. Most non-magical people look up to these witches and envy their power, but as witches already know, sometimes these abilities can be more of a curse. When growing up already requires all the luck and effort a teenager can muster, what happens when you throw spells, brooms, and bubbling cauldrons into the mix?
Occultic Nine
An all-new supernatural light novel series that inspired a hit anime!
What happens when eight eccentrics cross paths on a paranormal blog run by a high school NEET? A whole lot of weird! Gamon Yuta runs an occult-related site he hopes will one day make him rich. But before his dreams can come true, strange things occur when the lives of these nine oddballs collide. Can they solve a case that transcends reality and could alter the very fabric of our world?
Waiting For Spring
A sweet romantic story of a soft-spoken high school freshman and her quest to make friends, Waiting for Spring will delight fans of earnest, fun, and dramatic shojo like Kimi ni Todoke and Say I Love You.Mizuki is a shy girl who's about to enter high school, and vows to open herself up to new friendships. Of course, the four stars of the boys' basketball team weren't exactly the friends she had in mind! Yet, when they drop by the café where she works, the five quickly hit it off. Soon she's been accidentally thrust into the spotlight, targeted by jealous girls. And will she expand her mission to include... love?
Golden Kamuy
In the early twentieth century, Russo-Japanese War veteran Saichi "Immortal" Sugimoto scratches out a meager existence during the postwar gold rush in the wilderness of Hokkaido. When he stumbles across a map to a fortune in hidden Ainu gold, he sets off on a treacherous quest to find it. But Sugimoto is not the only interested party, and everyone who knows about the gold will kill to possess it! Faced with the harsh conditions of the northern wilderness, ruthless criminals and rogue Japanese soldiers, Sugimoto will need all his skills and luck—and the help of an Ainu girl named Asirpa—to survive.
Kigurumi Guardians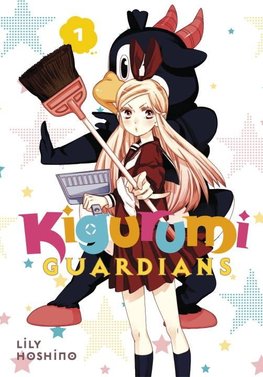 Lily Hoshino, the beloved artist behind Mawaru Penguindrum, offers her cute and twisted take on the magical girl genre. You probably never thought Sailor Moon needed more hot older guys in full-body mascot costumes, but Kigurumi Guardians will bring you around!Hakka's second year of middle school was dull as it could be, until a suspicious cow mascot ("kigurumi") shows up in her room, holding a sign that reads, "My Name Is Ginger." But this isn't (just?) a stalker, it's a magical being that's come to convince Hakka (and her friends) to become Guardians, and save the world! Hakka is understandably confused, until she's suddenly attacked, and a beautiful young man leaps in to save her. Can this handsome knight and the weird kigurumi be... one and the same?
Otome Mania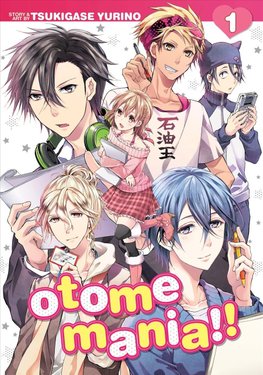 The story of a young woman living her gamer dream!
Yuzumi Otome is a master gamer and game creator, and has finally landed her dream job in an otome game company. Now, she will do whatever it takes to conquer the industry. But is success worth it? Will it truly bring Yuzumi happiness? Or will she spend her days wallowing in anger and anxiety? What must Yuzumi do to release a successful game?!
Compulsive Gambler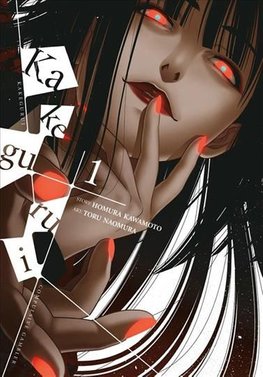 Hyakkaou Private Academy. An institution for the privileged with a very peculiar curriculum. You see, when you're the sons and daughters of the wealthiest of the wealthy, it's not athletic prowess or book smarts that keep you ahead. It's reading your opponent, the art of the deal. What better way to hone those skills than with a rigorous curriculum of gambling? At Hyakkaou Private Academy, the winners live like kings, and the losers are put through the wringer. But when Yumeko Jabami enrolls, she's gonna teach these kids what a high roller really looks like!
Save
Save
Save
Save
Save
Save
Save
Save
Save
Save
Save
Save