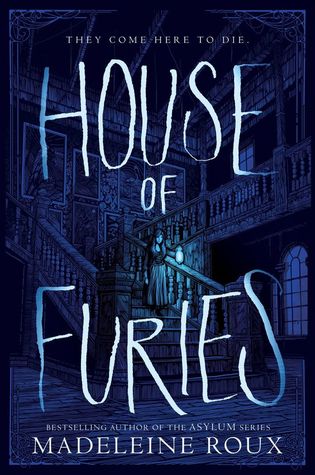 Rating: 4/5
Buy or Borrow: Buy
Source: Copy courtesy of the publisher!
After escaping a harsh school where punishment was the lesson of the day, seventeen-year-old Louisa Ditton is thrilled to find employment as a maid at a boarding house. But soon after her arrival at Coldthistle House, Louisa begins to realize that the house's mysterious owner, Mr. Morningside, is providing much more than lodging for his guests. Far from a place of rest, the house is a place of judgment, and Mr. Morningside and his unusual staff are meant to execute their own justice on those who are past being saved.





Louisa begins to fear for a young man named Lee who is not like the other guests. He is charismatic and kind, and Louisa knows that it may be up to her to save him from an untimely judgment. But in this house of distortions and lies, how can Louisa be sure whom to trust?





Featuring stunning interior illustrations from artist Iris Compiet, plus photo-collages that bring Coldthistle House to chilling life,

House of Furies

invites readers to a world where the line between monsters and men is ghostly thin.
So, you guys might remember I featured this on my blog back in January as one of my new releases that I was looking forward to! I don't usually do horror, but there was something about this book that intrigued me, the cover and the synopsis both piqued my interest and it sounded like something a bit different to the usual! Even so...it still wasn't what I was expecting, and I found myself completely loving it!
House of Furies is dark and atmospheric and it's that atmosphere along with how vivid it is that draws you in straight away and keeps you hooked to the page. I was hooked nearly immediately, and couldn't put it down, I read it in one go and the atmosphere to the book is one of the things that really makes this book memorable, and adds just something a little extra to it. I feel like a good horror book should be atmospheric but this is just perfect. I don't know how to explain it exactly, it just fit so well and I had such a good mental image as I was reading!
You get these really cool extracts from Morningsides book that have these brilliant illustrations with them, and I felt like that was a nice extra touch that added a few hints here and there! I really enjoyed the mythology and lore surrounding the monsters/mythical beings/creatures that went in to this book, it fascinated me and definitely left me wanting to know more! Speaking of Morningside...I actually really loved him. He was smooth and intelligent and a little bit mischievous at one point, and I loved his interactions with Louisa. He cracked me up more than once as did their banter. I ship them a fair bit, I'm not going to lie!
For me, Louisa was a great main character, she was believable and had the same kind of reaction that I imagined most of us would have when confronted with her situation. My thoughts about Lee and certain things often mirrored hers with her doubts and so on. Her situation with Lee particularly was very well done, I was pretty much with Louisa the whole time, first trusting him and not seeing how he could be bad and then the doubt seeping in. So well done.
I found all of the characters to be a memorable bunch, they where interesting and I wanted to know more about them and what they could do and what brought them there and their pasts and just everything basically! Mary, Chijioke and Poppy in particular, I'm not going to lie! Plus you know...Morningside.
I loved the way the author blended together the historical and the supernatural with the gothic touches. The storytelling was brilliant and like I said..atmospheric and vivid! It was just plain creepy at times, but it was always intriguing. And I'm so excited to see what happens in the next book and to get to know the characters even better! I need way more Morningside, I'm not going to lie!
All in all House of Furies was a brilliantly written, atmospheric and vivid read that intrigues you from the start and keeps you hooked until the last page. The characters are an interesting and memorable bunch and the book leaves you wanting more!