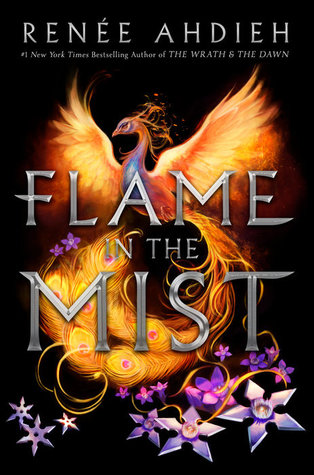 Flame in the Mist
Rating: 5/5
Buy or Borrow: Buy
Source: Copy courtesy of the publisher!
The only daughter of a prominent samurai, Mariko has always known she'd been raised for one purpose and one purpose only: to marry. Never mind her cunning, which rivals that of her twin brother, Kenshin, or her skills as an accomplished alchemist. Since Mariko was not born a boy, her fate was sealed the moment she drew her first breath.
So, at just seventeen years old, Mariko is sent to the imperial palace to meet her betrothed, a man she did not choose, for the very first time. But the journey is cut short when Mariko's convoy is viciously attacked by the Black Clan, a dangerous group of bandits who've been hired to kill Mariko before she reaches the palace.
The lone survivor, Mariko narrowly escapes to the woods, where she plots her revenge. Dressed as a peasant boy, she sets out to infiltrate the Black Clan and hunt down those responsible for the target on her back. Once she's within their ranks, though, Mariko finds for the first time she's appreciated for her intellect and abilities. She even finds herself falling in love—a love that will force her to question everything she's ever known about her family, her purpose, and her deepest desires.
I devoured this book. Seriously. I raced through it, and I couldn't put it down. Flame in the Mist is by far one of my favourite books of the year. I wanted to crawl in to the book and join the Black Clan, meet the characters. I finished the book and immediately wanted to re-read it. I didn't want it to be over. But it ended, and it left me hanging and I'm so desperate for the next book, it's not even funny. All I can do is applaud Renee for writing such a brilliant book. I was in awe.
Mulan is my favourite Disney Princess movie. I remember going to see it with my mum at the cinema, and completely falling in love. I loved the music, the setting, it sparked off an obsession with China. Once I was older, I read everything I could about Chinese mythology and history. I was fascinated. One of my dreams is to go to China and visit all the landmarks, the Great Wall, the Terracotta Soldiers. The movie even influenced my room. I was forever disappointed it didn't get a TV show like some of the other Disney movies, but it did get a sequel. The first movie however, is the best in my opinion.
SO, when I heard that this was a retelling of Mulan, or Mulan crossed with this or that...I knew I needed to read it. It went straight on to my TBR, and when I received a proof of it, I screamed the house down and did a happy dance and my mood couldn't be broken for days. I find so few books set in China, let alone the time period of Flame in the Mist!
Flame in the Mist immediately sucked me in, I was intrigued just from the prologue and then once I met Mariko I instantly loved her and was totally on board with her and her journey. I loved Mariko so much, she's intelligent, and strong, and brave when she needs to be. She wants better for herself than what she's 'allowed' as a woman in that time period. I loved watching her discover her potential and where she belongs in the world, it was an amazing journey to watch. She invents things and aaahhh I just loved her. Seriously. She's my favourite.
Aside from Mariko there's plenty of other interesting characters in the book. I was intrigued by her brother Kenshin, he seemed to genuinely care about his sister which was a nice surprise as I wasn't sure what to expect from him. He taught her how to defend herself and never gave up looking for her. I'm interested to see more of their relationship and how they interact. We learned more and more about Kenshin with each chapter, at first he was a shadowy figure, potentially an enemy, but you learned more and more about him until you felt for the guy. There's more than meets the eye with him, but after some events...I'm hoping he stays good!
Now...in my notes for Ranmaru when I started reading I wrote "bit of an ass" which was true at the start. But I ended up really loving him because he always encouraged Mariko and gave her a chance. He let her make her inventions, he used them. Considering the time period it was set in, I really loved him for that and respected him. Which magnified tenfold when you realised just what he knew.
Okami....he intrigued me right from the start, mostly because of his abilities but then I started shipping him with Mariko hardcore. I really loved him. There's so much to him, and after the big twist at the end I can't wait for the second book to see what he becomes. If it changes him. I need to know the rest of his past! That's not to say I didn't want to punch him once or twice, much like Mariko did, I'm sure.
Okami and Mariko might just be one of my favourite ships. They where so perfect together, challenging each other and I loved their banter and their interactions. I loved watching the relationship and their feelings for each other develop over the course of the book, and then when they where together...I NEED MORE RENEE! Give me all the feels, I don't even care. I just loved them so much.
Along with my favourite characters there where a few suspicious types. I'm still not too sure how I feel about Ren. As for Raiden, Roku and the Emperor...I don't trust any of them. They're totally up to something. Or the Emperor is at least. Possibly Roku. I was disappointed by Raiden because he seemed genuine but was a complete a-hole. I know he's gonna bug me in book two!
Each of the characters was brilliantly crafted, they had their good moments and their bad. There was more to them than first met the eye, and they really leaped off the page and came to life for me. The world was vivid, and beautifully crafted, I could picture each setting so vividly and thanks to that I immediately fell in to the world of the book and I didn't want to come back out. It was an enchanting world, and I was completely engrossed.
I loved the writing style...the storytelling. It was so decadent and authentic and it fit so well with the place and the time, and helped to bring the world to life. The words used to describe things for instance, where pulled from the setting and the time. It just fit so well and everything combined so beautifully to create this book.
There are plenty of plot threads to keep you hooked. As you read, the plot deepens as more and more threads are added to it. You have the shady Emperor, Mariko and the Black Clan and trying to figure out why they where after her. Her brother tracking her down and facing his own problems. The Black Clan themselves and the problems they have. Okame and his struggle with his feelings. More and more was added and the plot just sucked me in more and more.
Flame in the Mist is a book that sucks you in and has you completely engrossed. The apocalypse could be happening and you'd have no idea because you're so focused on the book. I read this in two sittings, unable to turn the pages fast enough and reluctant to put it down when I had to, you know, sleep. There's action, romance, intrigue, mystery, vivid settings, beautiful writing...it all combines to create this fantastic read. There's still plenty more to be played out in the next book and even without the ending that nearly killed me with feels.....I eagerly anticipate the sequel. The wait is going to be brutal. I need to see how it all ends, learn the answers to my questions and just be back with the characters and back in the world. This is one of those books I'll re-read over and over and never get bored of it.