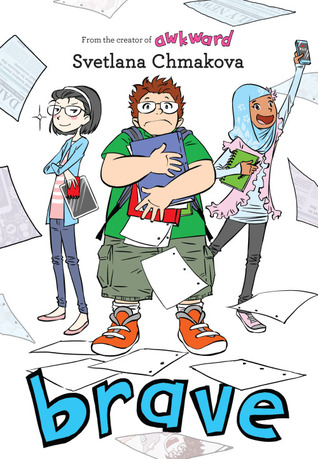 Brave
Rating: 4/5
Buy or Borrow: Buy
Source: Copy courtesy of the publisher!
In his daydreams, Jensen is the biggest hero that ever was, saving the world and his friends on a daily basis. But his middle school reality is VERY different - math is hard, getting along with friends is hard...Even finding a partner for the class project is a big problem when you always get picked last. And the pressure's on even more once the school newspaper's dynamic duo, Jenny and Akilah, draw Jensen into the whirlwind of school news, social experiment projects, and behind-the-scenes club drama. Jensen's always played the middle school game one level at a time, but suddenly, someone's cranked up the difficulty setting. Will those daring daydreams of his finally work in his favor, or will he have to find real solutions to his real life problems?
I haven't read the first book, but this works just fine as a standalone so don't hesitate to read this without having read the first book! I have to admit, I wasn't sure how I'd get on with this one, I was thinking...middle school boy...hmm...but you guys. This had me choked up and nearly in tears.
I could really, really relate to Jensen and how he felt throughout the book. I felt the same way at school, like there was a secret I didn't know and I just had to get through the day and then it would all be over. As someone who has been bullied, and who's experience at school was you know...viewing it as a living hell I couldn't wait to be over...I just really connected to and related to Jensen.
I knew something was shady with his friends from the beginning, and it was heart wrenching for me to see Jensen realise that he is being bullied, that it's not just people 'joking' and his reactions to it broke my heart. The poor little guy had me tearing up. I really liked Jorge he was the only one who was solidly nice to him and looked out for him, I wish I'd had a Jorge! The newspaper crew where great but at times they weren't brilliant to him either, although they where there for him in the end. To be honest I got a wee bit protective of Jensen.
I wasn't too sure about the art style, but I loved Jensen's daydreams and adventures scattered throughout his every day life, they where bright and colourful, a contrast to the other illustrations. I also liked how he viewed school as a game and how that was shown on the page.
Brave is brilliantly diverse, but it's diverse in a way that's natural. It's not diverse for the sake of it, or forced in there, it's just natural and great to see. The world of this book is brilliantly brought to life and it's rich, and the characters all have their own distinct personalities that have been well developed. I actually really enjoyed this story, and the way the author brought it to life with art and dialogue. Plus like I said...I just found Jensen and his situation so relatable and at times it was incredibly emotional for me because it was like taking a trip down memory lane. I really liked how the bullying theme was handled.