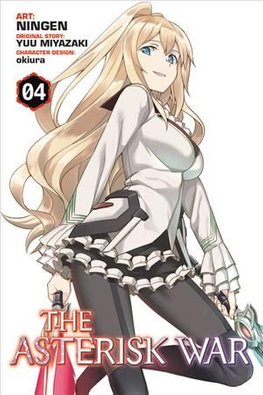 The Asterisk War Vol 4
Rating: 4/5
Buy or Borrow: Buy
Source: Copy courtesy of the publisher!
Kirin Toudou is the top-ranked student at Seidoukan Academy despite her young age, but there's one enemy she cannot face--her controlling, abusive uncle! After witnessing the man's cruelty toward his niece, Ayato steps in to help, but he soon finds himself facing her in a duel! With the Festa just around the corner, can he really afford to reveal his dueling style in front of the whole school, or will he have to accept defeat?
Okaaayyy I'm getting more and more excited for the Festa with each volume, and this definitely ramps that up. I'm so excited to see everyone in action and learn more about everyone and I'm getting so impatient like "come ooooon is it time for the Festa yet?!"
In this volume we meet Kirin and her douchebag uncle. Kirin is going to be an interesting new addition to the group as she's the top ranked fighter in the school. I'm liking how we're meeting Festa contestants in each volume, and it's piquing your curiosity about them and what exactly they can really do. It's going to be interesting to see Kirin training with the others. I actually really liked her.
This volume starts straight off with some action and intrigue and you know...some tension. I liked the little time skip forward and then backward, it kept it fresh. We learn more about the world of the manga and how things work in every day life not just at the Academy, which made for interesting reading.
There's plenty of action in this fast paced volume, we get to see some duelling and some monster fighting. Which also goes a long way to helping us get to know Kirin. We also see certain members of another Academy who appear to be up to no good, which this volume made pretty clear actually. I'm curious as to what their motive is, if it's anything other than the usual rivalry and such. This volume has made me more intrigued by Claudia and Ayato in particular, I'm not going to lie, I'm hoping to learn more about them in upcoming volumes.
Volume 4 is another fast paced, action packed offering from this series, and it provides plenty of intrigue too with an ending that makes you impatient for the next volume. It also makes it pretty clear that there's some form of plot and/or treachery afoot from a certain party. We get more and more information about the world and the characters with each volume but there's still more to find out, as we discover with Claudia and Ayato. Volume 4 also see's the introduction of a new character to the team who I think is going to be an interesting addition. Bring on the Festa!